10 Must-Try Afternoon Tea Experiences In Kuala Lumpur This February
Take your tea with a slice of luxe this month as Valentine's and Chinese New Year celebrations kick off. Whether it's an afternoon with the girls or an intimate tea treat with your special someone, these are the posh places to hit up to splurge on a spot of tea and indulge in dainty delicacies that ease away those mid-day tensions.
1/10 TWG Tea Grand High Tea Set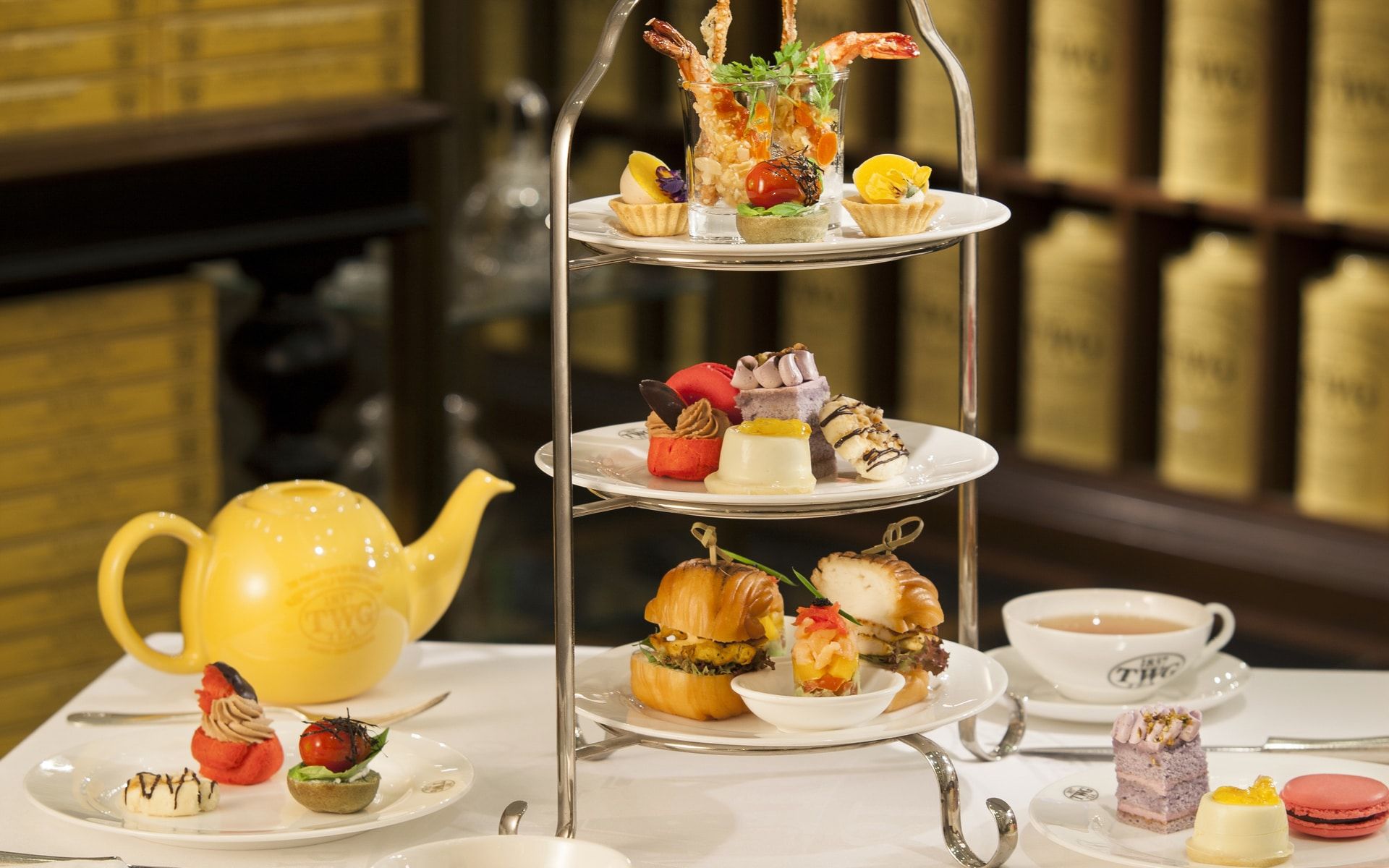 Amazing tea and tea-infused treats: TWG Tea does a masterful job of setting the ambiance and serving up delicious fare for your afternoon fancy. The savoury options on TWG Tea's Grand High Tea Set don't overpower the meal – the subtle but wonderful flavours of the Oolong tea-dusted saffron chicken mantou bun and the almond-crusted tiger prawns are well complemented by light desserts.
From rich-toned macarons to the utterly sublime red choux pastry with its caramel ganache and sweet fruit topping, pair this high tea set with a pot of TWG Tea's Miraculous Mandarin black tea or their latest Mon Amour Tea, a Valentine's Day highlight. Speaking of February 14th, a complimentary Valentine's Day dessert awaits any couple ordering the Grand High Tea on this special day, a fitting end to a sweet afternoon. Priced at RM118++ per couple, more information on this promotion can be found here.
Read also: 5 Delicious Reasons Why Afternoon Tea Is A Must-Have For A Fuller Life
2/10 Newens Tea House
The Newens Tea House carries an inspired tradition of tea dating back 300 years; and currently, they're offering a multifacelted tasting experience with their Journey Through Tea events in 2018. Throughout the month of February from 2.30pm to 5.30pm, their Spring in China High Tea will explore the best traditional Chinese cakes and savoury snacks paired with the Pai Mu Tan tea – made from young white peony buds. This thematic tea experience is priced at RM150 nett per set. For more information, call 03-2719 8550 or click here.
3/10 The Lobby Lounge, The Ritz-Carlton Kuala Lumpur
Available from 3pm to 6pm at The Ritz-Carlton Hotel's Lobby Lounge, this fabulous Valentine's Day Afternoon Tea is all about big flavours in small sizes: smoked salmon cream cheese with crackers and mini wagyu beef burgers come to mind on the savoury side while classics like strawberry butter cakes or scones with clotted cream and preserves will leave you in cheerful spirits all day long. Tea connoisseurs can look forward to a steaming cup of Ronnefeldt tea amidst this delightful high tea experience priced at RM80 nett per person. Click here to find out more.
Read also: The ultimate guide to afternoon tea in Kuala Lumpur
4/10 The Living Room, The Westin Kuala Lumpur
Oriental dishes take centre stage at The Westin Hotel's Chinese New Year High-Tea buffet. Executive Chef Rudy Junaidie has prepared a festive spread of desserts and mains that are bound to tickle your taste-buds and spread the joy all around the table – there's also a dedicated Yee Sang corner available from February 15 to 18. This high-tea buffet is priced at RM130 nett per adult (RM65 nett for children from 5 to 12 years old). Reserve your spot by calling 03 2773 8338 or visiting www.thewestinkualalumpur.com.
Read also: Seafood Is The Star Of This Chinese New Year Menu
5/10 Bistro 160, Grand Millennium Hotel Kuala Lumpur
For true-blue chocoholics, The Scrumptea-Delicious High Tea at the Grand Millennium Hotel KL is a must-try. Fans of Roald Dahl's novel Charlie and the Chocolate Factory will also appreciate the novel's part in inspiring this entire tea concept. There's really no running from the chocolate-dripping goodness: adding to 9 colourful chocolate fondue fountains is a selection of cocoa meringues, scones, cakes, and lollipops – there's even a steamed bao filled with chocolate.
This indulgent spread is priced at RM88 nett per person, available every weekend from 3pm to 6pm. To make a reservation, call 03-2117 4160 or find more information here.
6/10 The Lobby Lounge, Shangri-La Hotel Kuala Lumpur
From now till February 28, expect some full-on pampering with Shangri-La Hotel's Chinese-themed afternoon tea set, available 3pm to 6pm daily from now till 28 February. Savour timeless Chinese New Year treats and enjoy an Oriental twist on classic high-tea favourites with dishes like snow crab salad with pie tie, mandarin orange scones and sea moss macarons. All in all, it's a selection of savoury and sweet delicacies that are sure to dazzle, priced at RM 180 nett for two people. Call 03-2074 3900 or click here for more information.
Read also: The only guide you need to afternoon tea in the city
7/10 Lounge on the Park, Mandarin Oriental Kuala Lumpur
The Chinese New Year Afternoon Tea at the Mandarin Oriental's Lounge on the Park is available from now till March 3. Guests will get to enjoy unique pastries and finger sandwiches incorporating the familiar flavours of Chinese New Year feasts: from scones, green tea and white chocolate cookie choux and sesame gianduja with mandarin mousse on the sweet side and favourites like blue swimmer crab meat with black garlic mayonnaise and rice crackers on the savoury side.
This delightful afternoon tea is priced at RM148 nett per set, inclusive of one hot beverage. Find out more here.
Read also: 5 Chinese New Year Foods From Our Best Hotel Restaurant 2018 That Really Nailed It
8/10 The Orchid Conservatory, The Majestic Hotel Kuala Lumpur
Any talk of afternoon tea at KL inevitably brings up a mention of the Majestic Hotel Kuala Lumpur. From February 10 to 14, guests can sit down to an exquisite Valentine's Day afternoon tea spread in the stunning flower garden backdrop of the Orchid Conservatory. Set the mood for romance while you enjoy your tea, cakes and scones while surrounded by the burst of colours and scents of thousands of orchids. This afternoon tea is priced at RM138 per person.
Alternatively, may can choose to enjoy your Valentine's Day tea in the gorgeous Tea Lounge (RM88 nett per person) or in the Drawing Room (RM108 nett per person). For more information, call 03-2785 8000 or email tmklguestservices@ytlhotels.com.my.
9/10 The Drawing Room, The St Regis Kuala Lumpur
The Valentine's Day Afternoon Tea at St Regis Kuala Lumpur runs from February 13 to 15, from 2pm to 6pm. In these 3 days, diners will get to sample exclusive creations from the Executive Pastry Chef and chow down these exquisite high tea treats in the style of Caroline Astor herself – the renowned Manhattan high-tea goddess and mother of St Regis founder John Jacob Astor IV. Priced at RM288 nett per couple, reserve your spot for this tea set by calling 03-2727 6660 or click here to find out more.
Read also: Everything you need to know about high tea in Kuala Lumpur
10/10 OneSixFive Lounge, Intercontinental Kuala Lumpur
Nothing perks up Valentine's Day like a clandestine rendezvous. Dive into those sweet secret vibes with the Intercontinental KL's romantic afternoon tea offer: Valentine's Secret Rendezvous at OneSixFive Lounge from now till February 28, 2pm to 5pm daily. Diners will get to enjoy a selection of sweets and savouries accompanied by premium TWG tea and coffee. This special afternoon tea starts at RM150 nett per person – add an extra RM90 nett per head if you feel like having a glass of Laurent-Perrier champagne. Call 03-2782 6000 or click here for more details.