11 Seafood Restaurants To Bring Dad For A Meal To Remember
Why do steaks always get the limelight? Switch up beef for seafood this Father's Day, whether it be Japanese sashimi rice bowls or Southern American cajun delicacies, we've got a number of places for you to show dear old dad how much you love him. Through food of course.
1/12 Crab Factory (pork-free)
The owners of Crab Factory took a trip to Louisana and fell in love with Southern American cuisine. Bringing their passion back with them, the restaurant encourages groups to come together and eat communally, which gives you the opportunity to bond with your family over some finger licking seafood.
2/12 Kaiju (pork-free)
Half Thai, half Japanese, Kaiju offers interesting dishes that takes cues from both popular cuisines. Take this seafood tom yum ramen for example, a dish that took us by surprise with its combination of Thai spices and Japanese culinary style. If ramen isn't to your liking, the restaurant offers other seafood goodies, like a spicy-sour Thai flavoured seafood hotpot.
3/12 Cor Blimey
Treat daddy dearest to a casual meal of traditional British fish and chips at Cor Blimey, Damansara Uptown. The eatery is run by a British chef and although it's a no brainer to order a side of fish and chips over there, there's other English treats, such as bangers and mash up, up for grabs for the family to try out.
4/12 Taka By Sushi Saito (pork-free)
If your family loves sushi, take them to Taka by Sushi Saito to experience one of the best sushi spots in the city. With an incredible pedigree from its 3-Michelin Star restaurant in Tokyo, expect an amazing meal from start to finish.
5/12 Lala Chong Seafood Restaurant (pork-free)
This popular Chinese seafood restaurant commands a loyal following of fans who swear by their fish, clams, crabs and prawn dishes. Lala Chong Seafood has been so popular, they have even opened other outlets around the Petaling Jaya area. If you're looking for down to earth stir-fried goodness, this place might be the one for you.
6/12 Pince & Pints (pork-free)
The steak of the sea, lobster is a prized catch that never fails to please. Enter Pince & Pints, a restaurant that shines a light on these delicious crustaceans and offers them in a variety of well executed Asian and Western styles. If you're wondering where the "pints" part comes into play, one only has to take a look at their drinks menu to figure it out.
7/12 The Fat Fish (pork-free)
Instead of a deli for meats, The Fat Fish is a deli for seafood. Located at Mont Kiara, the restaurant specialises in offering fresh sashimi, oysters and other Japanese-styled delectables. The restaurant is open for lunch and dinner and advises customers to make a reservation in advance to ensure a spot.
8/12 Poseidon Caviar & Seafood Bar
At the growing culinary hotspot that is Plaza Arkadia, luxe restaurant Poseidon Caviar & Seafood Bar promises incredibly fresh seafood cooked using modern styles. Make sure to order their signature prawn aglio olio for the table to share. And for a truly opulent delicacy, there's Beluga caviar.
9/12 One Seafood (pork-free)
Over at KL, One Seafood in Bukit Bintang is another great Chinese option if you're looking to treat dad to a grand feast. There's lobster sashimi, sauteed bamboo clams and many more ocean goodies on the menu, ensuring there's something for everyone.
10/12 Colonial Cafe
This Father's Day, The Majestic Hotel's Colonial Cafe celebrates the kings of our family with a classic chilli mud crab served with toasted mantao buns. Those not partial to mud crab can instead opt for king crab pasta, a fusion dish made with Italian flair, paying homage to the asian chilli crab.
11/12 Yamaguchi Fish Market (pork-free)
Inspired by famous fish markets from Japan, Yamaguchi takes that concepts and promises to deliver the freshest Japanese seafood. Expect sashimi and sushi platters, live crabs, and Japanese-inspired cocktails and beer to wash it all down. Located right at the edge of Royal Selangor Golf Club downtown, the restaurant has a calm ambiance despite being right in town.
12/12 Bonus: Pier 12 (pork-free)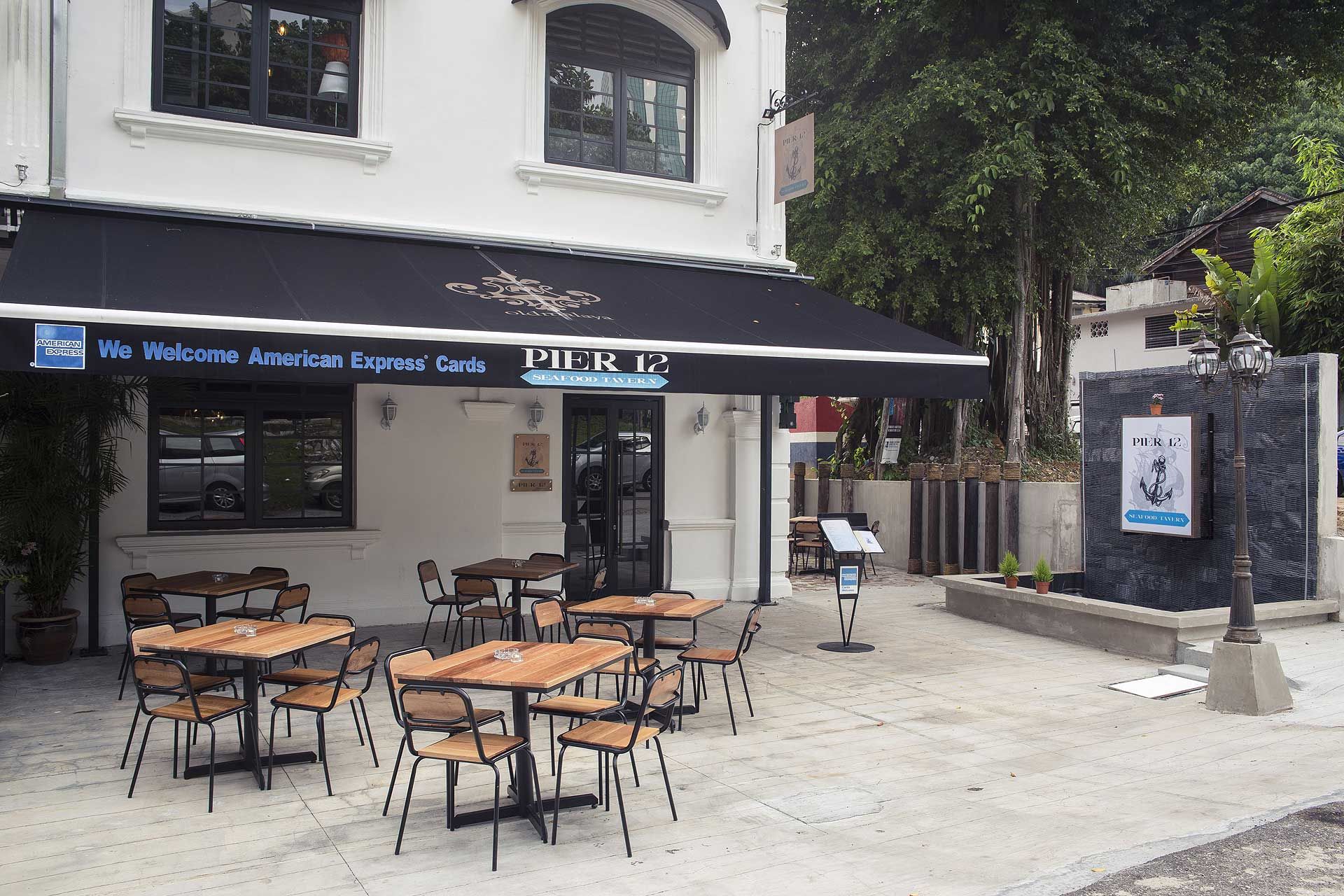 From steak specialists Pampas, Pier 12 over at Old Malaya markets itself as a seafood tavern, dishing out bounties like garlic prawns, clam chowder and tandoori halibut that pair well with a glass of wine or a pint of beer.