5 Ramen Restaurants That Are A Big Pull For Noodle Lovers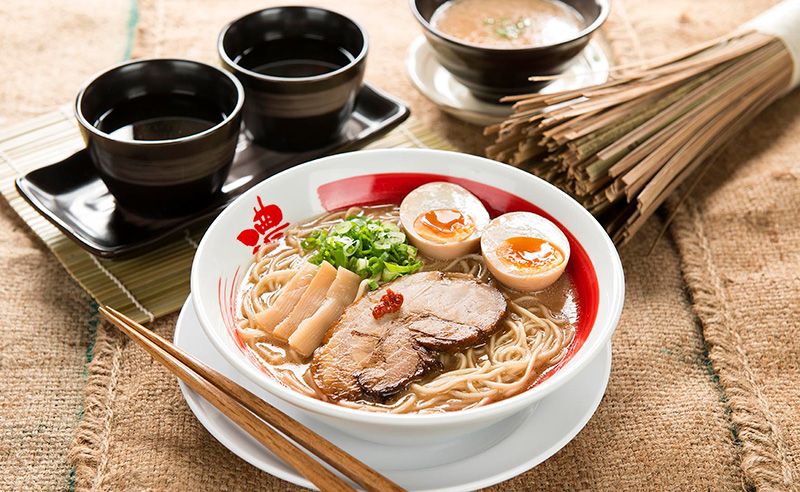 Ramen usually comes in either miso, shoyu (soy sauce), shio (salt) or tonkotsu (pork bones) broth bases and the five noodle houses featured here specialise in either one or a mix of some. With the ever increasing popularity of ramen in Malaysia, we take a look at five places that serve slurp-inducing bowls.
1/5 Bariuma Ramen
Originating from Hiroshima, Bariuma Ramen combines the Japanese words for "super" and "tasty", promising a steaming bowl of ramen with a medium bodied rich tonkotsu shoyu broth topped with the usual fan favourites. With dozens of stores in Japan, it's not difficult to see why this ramen joint has set up shop here.
2/5 Menya Musashi
Although it has been for a few years now, Menya Musashi still manages to hold its own at Isetan, One Utama. The restaurant's signatures are chewy noodles in a heavy tonkotsu topped with thick pieces of pork. Order the black garlic ramen for a real flavour kick and check out their Facebook page here.
3/5 Ramen Santouka
A Hokkaido based ramen shop, Santouka achieved fame after its founder decided to make his own ramen after one uneventful dining experience. The original shio ramen here is famous for its east-to-enjoy soup, use of thin noodles and succulent pork cheeks. Click here to plan your trip.
4/5 Menya Shi Shi Do
From Hokkaido (north) to Fukuoka (south), Menya Shi Shi Do serves Hakata styled ramen. Ippudo may have popularised the style of ramen but Menya Shi Shi Do proves that the ramen chain giant isn't the only one who knows how to make a delicious bowl of noodles. You can find more info here if you can't wait to sample that delicious soup.
5/5 Menya Kamikaze
Unlike the rest on this list, Menya Kamikaze is an original homegrown Malaysian brand. Because of this, the Japanese chef running the kitchen has created a creamy and milky soup that he says is favoured by locals. Located in One Mont Kiara, click here to find out the latest scoop from them.
In case you're wondering why so many ramen restaurants start with the word "menya", fun fact, it's Japanese for noodle shop.
Go on, go get your ramen fix.
(Editor's Note: The restaurants listed are non-halal)
See also: