5 foods and restaurants that make America great again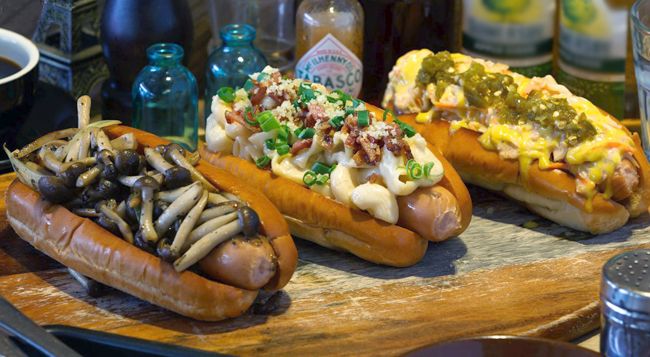 American food is made with 1 tablespoon of the familiar, 1 tablespoon of comfort, 1 cup of excess, and just about all the deliciousness your brain can handle.
As a person who has genuine love for the US of A and much of what it has represented, it's hard not to admit that looking on at the country right now can lead to confusion. But even in times of division, where we may not entirely agree with each other's views, choices and actions, the dinner table will always be the one place where we can sit, talk, eat and find common ground.
In that spirit, we're choosing to highlight five quintessential American foods that show that the most brilliant food innovations have come from some form of American mania.
And as for what exactly constitutes American food? It's 1 tablespoon of the familiar, 1 tablespoon of comfort, 1 cup of excess, and just about all the deliciousness your brain can handle.
Here are five restaurants and food that prove every dark cloud can be weathered by your stomach:
---
Mikey's New York Pizza
As the biggest melting pot in the world, food in the United States, for the most part, originate from other countries. Pizza may be from Italy, but do not confuse it with the American version. Heavy, hearty and over the top, Mikey's serves pizza the way New Yorkers innovated it – by eating one yuge slice at a time.
---
Bowery Petit
The city that never sleeps is also where another immigrant cut its teeth. Brought by Jewish Polish communities, the bagel evolved from a simple bread, to a vessel for eccentric combinations, the traditional being cured salmon and cream cheese. Locally, try out the dazzling, colourful and tasty bagel combinations at Bowery Petit.
---
Buns & Meat
No claims will be made about the hot dog's origin, but what will be said is that when the German frankfurter learned the American dream, things got out of hand. Buns & Meat appreciates American excess by topping their dogs with mac and cheese, or baked beans, or nacho cheese sauce. Doesn't get any more American.
---
Chequers
A combination that baffles many, but delights even more is the marriage of chicken and waffles. You can fry your chicken, or grill it, and serve it on thick chewy, or thin crispy waffles and top it with either maple syrup or gravy; at Chequers, diners wanting to try all of the above, are more than welcome.
---
Betty's Midwest Kitchen
American Barbecue. Enough said. While authentic, 12-hour Hickory smoked barbecue can be hard to come by, the caramalised, sweet sauce version serves as a competent substitute. Betty's has brought the American midwest's memorabilia and flavours to Malaysia, and is worth a visit for their barbecued ribs.
---
Another American favourite: Pie, and five places where you can stuff your pie whole.