ATAS Modern Malaysian Eatery: Where Every Single Ingredient Has Traceability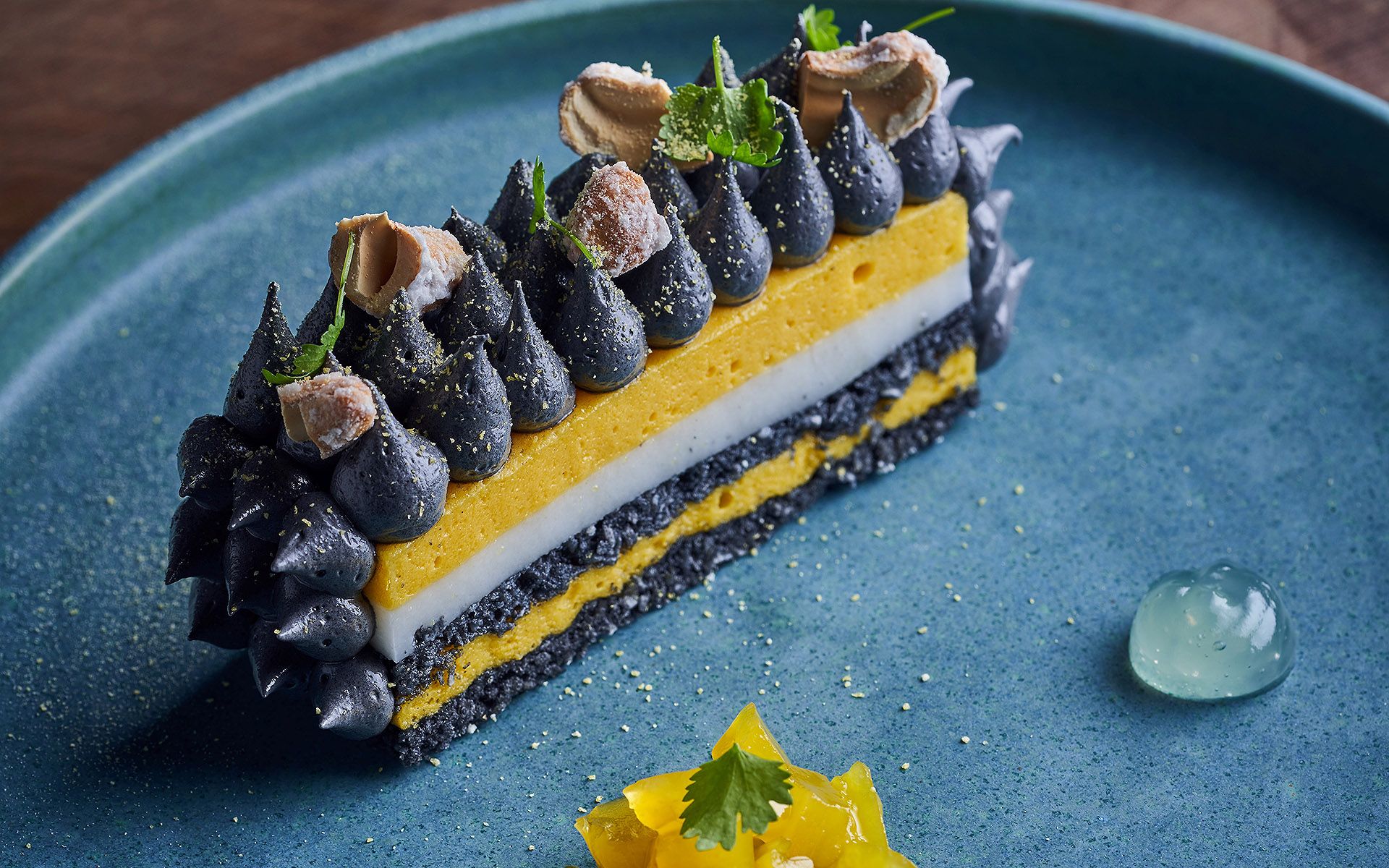 By Samantha Sowerby
August 08, 2019
Though certainly not the first (and hopefully not the last) establishment to support area farmers and researched foodways, ATAS Modern Malaysian Eatery at The RuMa Hotel and Residences is physical proof that chummy relationships with suppliers make for choice food.
Pictured above: The Bombe Alaska with mango, jackfruit, calamansi & cashews.
Mere months ago, in late May, if I'm not mistaken, I coaxed Tyson Gee into eating Mango Pocky while blindfolded. What might sound like a kinky game was in fact a blind taste test, in which the executive chef of ATAS Modern Malaysian Eatery performed exceptionally well.
The Canadian chef was never want for Asian snacks while growing up in Vancouver. "If you gaze out on a crowd in my hometown, you'll see a sea of black hair," he chuckles. "Which probably explains why we had Mamee Monster (a Malaccan export) on our supermarket shelves." Childhood snacks and the occasional bowl of laksa aside, Tyson's exposure to Malaysian cuisine was limited prior to spearheading The RuMa's central kitchen, but the chef has scaled a steep learning curve.
Speaking for his friend and colleague, Nigel Gan, director of marketing and communications at The RuMa, says, "Tyson isn't trying to replicate local dishes or to bastardise traditional flavours, which Malaysians take so much pride in. What you will discover at ATAS are new, inspiring combinations of hand-picked, heirloom or locally harvested produce."
Hence the pai tee stuffed with crème fraiche, chives and caviar from Tanjung Malim, or Tyson's take on miang kham aka miniature salad bites. Easily deployed as an elven blanket, the versatile betel leaf is tucked around blue tiger prawns, coconut sambal and a cross section of kaffir lime. Acidity, bitterness and char comingle in an unexpected flavour bomb that leaves me reeling.
Anyone who thinks that size does matter need only sample this snack to denounce the cliché.
My first question when companions say they've been to ATAS will be this:
Can we please talk about the chicken?!
Poultry, that most prosaic of proteins, proves to be the prima donna of the show. Ineffably delicious with a 'roundness' usually associated with mouthcoating wines, the buah keluak sauce beautifully complements the saffron-coloured cloud flavoured with fermented chillies. Given all that is going on, I am glad that little has been done to the okra; a Lilliputian version of the Giant's Causeway, the pentagon-shaped 'stepping stones' serve more of an ornamental purpose.
The chef's current favourite dish is ours too.
The raw yellowtail kingfish conforms to the first rule of cooking: that every good recipe starts with roasting some garlic. Often overlooked, even by Malaysians, starfruit is given a chance to shine in a group act with sawtooth coriander and green chillies.
Mice squeak, and so too does the tiger grouper at ATAS. Our party of 4 is astonished and amused when Nigel sticks his knife into the fillet; its flesh is so taut that it emits a shrill sound. I think I smell rice wine, and am not wrong.
Tuak! Some kinds I've sampled were interesting and pleasant; others made my mouth feel possessed (it is a spirit, after all). The Borneon beverage replaces cooking wine in the fish dish, which simply must be sampled.
"We get our tuak from a guy called Johnny James," informs Tyson. "That's probably what's changed the most since I first moved to Malaysia: my relationship with suppliers. We now understand each other's needs."
The first whiff suggests forest floor, moist soil and spores breaking through soft earth. When the wetness subsides, woodsier, sensual notes arise.
Procured from the Pasar Borneo in Seri Kembangan, the highland Bario rice with king oyster mushrooms, pecorino and highland peppers feels like convalescent food.
This is the only savoury vegetarian dish we are sampling, although the menu sees a nice sprinkling of 'cruelty-free' dishes, from a starter dubbed 'Textures of Malaysian heirloom tomatoes' to mains such as banana blossoms cooked with coconut.
If you're anything like me, you'll constantly have a yen for sweets, and at ATAS, the low sugar levels seem like a pretty good excuse to order almost every dessert available.
Two types of meringue — one marshmallow-like, the other crunchy — feature in the Bombe Alaska and the mangosteen parfait. The sight of the latter inspires a Pavlovian reaction: I want to crush the pretty, frail thing — such is the cultural conditioning created by what I call 'wreck it' desserts.
A godsend for those who can't decide between a cheese board or dessert, the Milky Whey goat's cheese cake proves that it is possible to have your cake and eat it too. The secret lies in reinvention.