Celebrate The Festive Season At Mandarin Oriental
Mandarin Oriental, Kuala Lumpur has prepared everything you need to have a great day out this festive period. Just make your reservations, sit back and enjoy the culinary treats that will be prepared for you and your family this year end.
1/4Christmas Eve
Make the lead up to Christmas even more special with three sumptuous feasts to choose from on the 24th of December at Mosaic, the Mandarin Grill or at AQUA Restaurant & Bar.
Indulge in a Christmas Eve buffet dinner at Mosaic from 6:30pmto 10:30pm with the family, priced at RM258 per person, or alternatively opt for a special 6-course dinner at the Mandarin Grill during the same time, priced at RM498 per person, with the option to pair your meal with a flight of wine with every course at RM673 per person.
If dining al fresco and having barbeque seems more up your alley, AQUA Restaurant & Bar's Christmas Eve Barbecue Under The Stars event will be offering a selection of premium meats and seafood for you to sate your inner carnivore to your heart's content. Starting at RM258 per person, you can expect a sinfully delicious meal.
2/4Christmas Day
It's one of the biggest celebrations of the year and Mandarin Oriental, Kuala Lumpur has prepared a day's long worth of culinary splendours to ensure that you and your family can enjoy the festivities and enjoy a lavish Christmas meal without any of the prep work or cleaning up.
The day starts with a Christmas day grand buffet brunch across four venues, at the Mosaic, Lounge on the Park, Mandarin Grill and MO Bar from 12:30pm to 3:30pm priced at RM438 per person. Those inclined to enjoy a Christmas themed afternoon tea can look forward to a special Chopard afternoon tea set available from 1pm to 6pm, available at RM148 per person and RM198 per person with a glass of champagne.
Come evening, diners can look forward to a Christmas day buffet dinner at Mosaic available from 6:30pm to 10:30pm (RM258 per person) or instead decide to go to Mandarin Grill for a lively yet intimate course-by-course set menu for you and your family, priced at RM188 per person to RM278 per person.
3/4New Year's Eve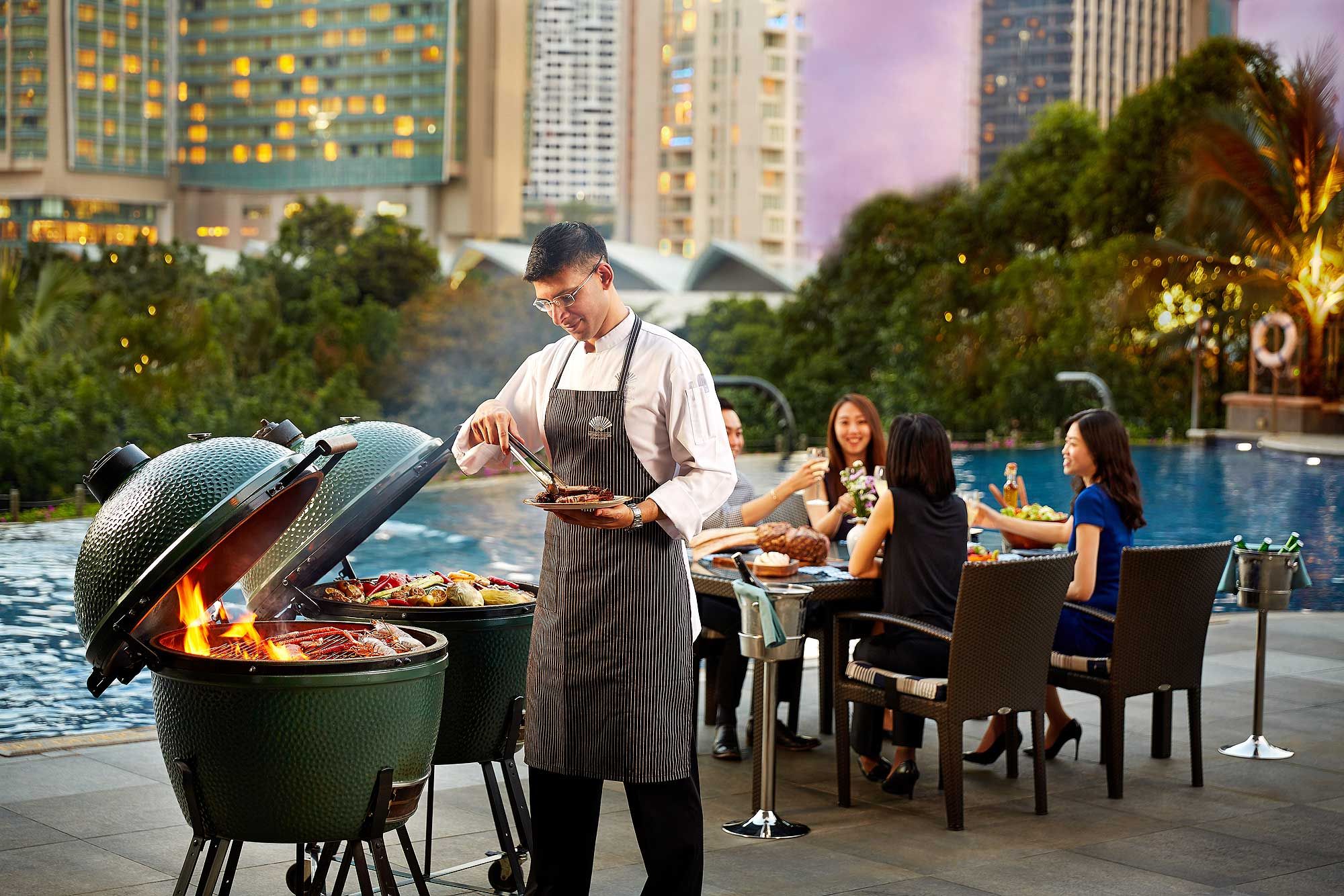 Come year's end the hotel continues to up the ante with a string of culinary celebrations. There's the New Year's Eve gala buffet dinner at Mosaic and an 8-course dinner at Mandarin Grill from 7pm to 10:30pm, priced at RM398 per person and RM668 per person respectively, to satisfy your palate before the hours leading up to the fireworks at the stroke of midnight.
Nevertheless, should you decide you'd like to have an oriental New Year's eve dinner celebration instead, Lai Po Heen (our Best Hotel Restaurant of 2018) is offering a 7-course menu during the same time, priced at RM368 per person. If you would like to celebrate under the stars with Argentinian barbecue, then AQUA Restaurant & Bar will be your best bet, with access to unlimited charcoal grilled meats starts at RM588 per person.
4/4New Year's Day
Usher in 2019 with a fantastic New Year's Day brunch at Mosaic from 12:30pm to 3:30pm at RM198 per person, or go for fine Cantonese fare instead at Lai Po Heen with a special New Year's dessert buffet available for any set menus ordered.