Ethical eats: Smoked salmon and other seafood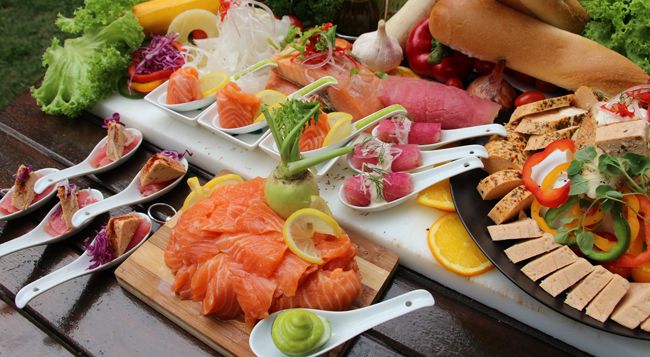 If you're looking for the highest quality of ethically farmed salmon and other seafood, than look no further than Bonfisken Seafood Store by Albatross Exim Sdn Bhd.
Unlike many other fish, salmon contains low levels of mercury, because of its relatively short life span and pristine aquatic environment—making it a healthy seafood option.
Salmon is also known to be a good source of Omega-3 fatty acids—a vital nutrient that prevents cardiovascular disease and stroke. Atlantic salmon in particular is sought after as it guarantees high quality meat, which doesn't give off a fishy odour.
Where in Malaysia can you get your hands on this prized protein? The answer is Albatross Exim—a traditional European smokehouse offering seafood deli ingredients, which can be used in hotels, restaurants and even for home cooking.
When Netherlands-native Roelof Schoemaker was commissioned by the United Nations as a young food technologist to bring aquaculture and food sustainability to various third world nations, he spent many years travelling the world before settling down in Malaysia. In 1992, he established Albatross Exim to bring rustic European flavours to the Malaysian palate.
Roelof Schoemaker realised that farmed salmon is a sustainable way to ensure that our ever-growing population can feed itself in the near future.
Norway, for example, is pioneer in the development of salmon farming. Since the country's breakthrough with sea-based farming in the 1970s, it has maintained its position as the world's leading producer of Atlantic salmon.
Offering a variety of smoked salmon as well as other seafood, Albatross Exim sources from all around the world while ensuring traceability and sustainability.
It's also strict on quality control and all products are inspected to ensure cleanliness and the highest quality. Sourced from countries like Norway, Netherlands, Spain and Denmark, the seafood is a good source of protein with no added chemicals, preservatives or harmful carcinogens. Products available include salmon, trout, cod, lobsters, mussels, scallops, herring, caviar and many more!
Albatross Exim caters for personal consumption and provides free home delivery, subject to minimum order, while their smoked salmon is also available at all major supermarkets in Klang Valley and major towns of East and West Malaysia.
For information, visit their website here and those interested in wholesale orders may contact info@albatross-exim.com.
In the same vein as healthy eating, apparently eating according to your blood type can do you good.