Now Taking Reservations: A Multi-Sensory, Immersive Dining Experience In Kuala Lumpur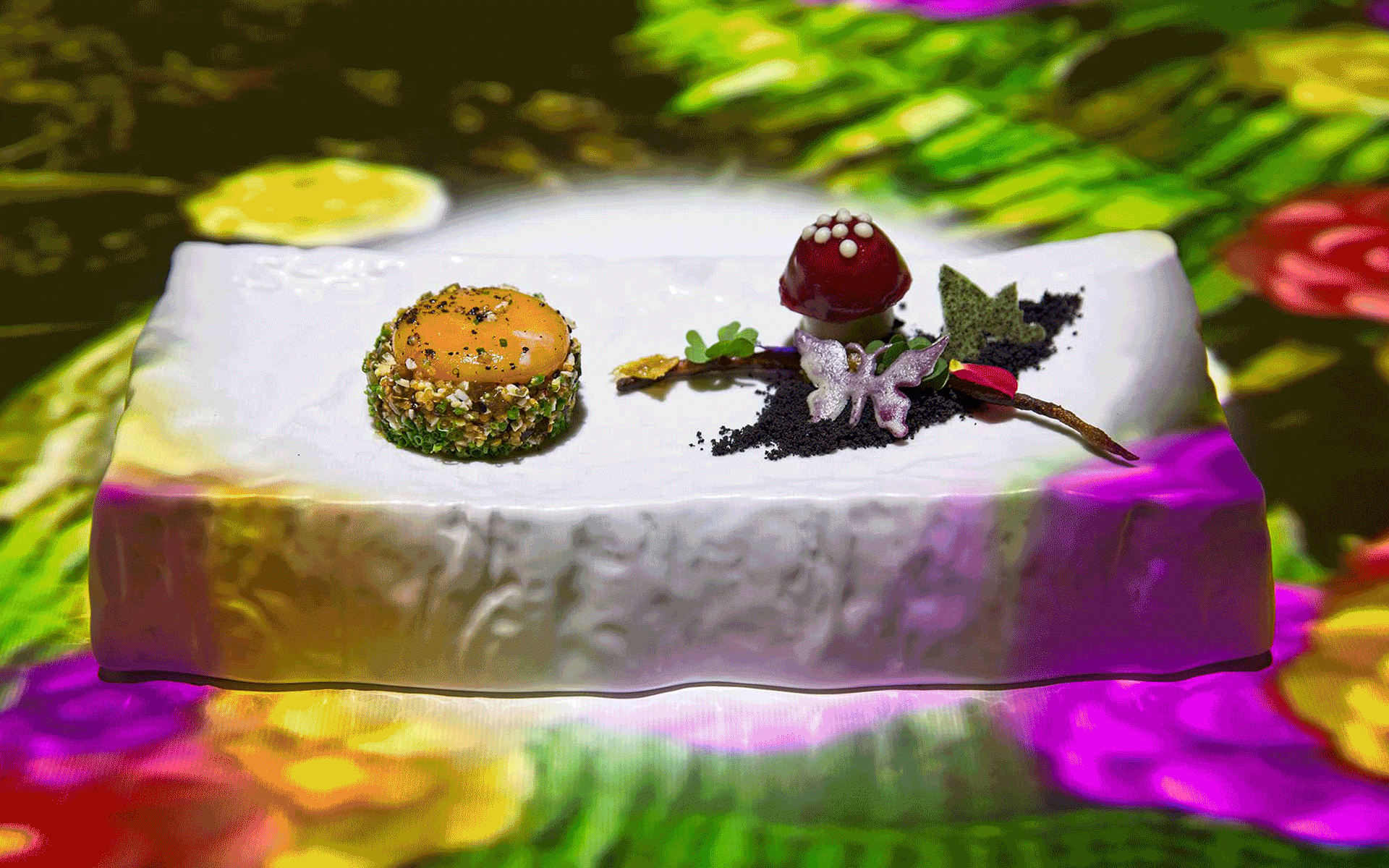 Hennessy partners up with Tapestry Malaysia for their next adventure at Enfin by James Won. The entire experience will take diners across Malaysia, as a scene-by-scene narrative unfolds to complement a unique West meets East celebration of Malaysian flavours.
The Stage Is Set
Back with another exciting culinary match up, Hennessy teams up with Tapestry Malaysia and Enfin by James Won to create a unique 360-degree motion-sensitive dining experience.
Guests will embark on an adventure of the palate through Malaysia's rich food scene through Enfin's signature marriage of French cooking techniques and prized local ingredients, this time putting a significant emphasis on the latter.
The rest of your senses will instead be guided through Tapestry Malaysia's projection technology through a special pop up dining arena at the restaurant, bringing a variety of Malaysian scenes to wow diners.
The entire food tour of Malaysia is represented by five courses, with the option to pair alcohol with each step of the way.
Scene One – The Forest
Malaysia's rich forests offers undiscovered potential when it comes to incorporating local produce, herbs and spices into haute cuisine. Enfin celebrates this with a match up of three of the restaurant's signature entrées paired with a glass of refreshing Krug champagne.
I. baby baguette stick served with apple sorrel, sambal olek à la Enfin, chicken skin and edible flowers
II. foie gras mushroom, black cherries and white chocolate nut
III. mushroom tartare, truffle egg yolk, mushroom distillate gelée, roasted quinoa, sesame, pickled shallots, cornichones and chives
Each brings its own special something to the table, with the mushroom tartare offering a predominantly toasted umami-rich profile that delights on many levels, the foie gras mushroom offering a playfully sweet counterpart and the baby baguette stick putting forward a small but impactful flavour train.
Scene Two – The Palace
Transporting guests from dining in a forest to dining at a palace, the next scene sets the stage for a beloved Malaysian dish – laksa.
Unassumingly resembling an orange encased in a glass cover, the course features smoked mackerel, rendang confetti, ginger torch, a laksa emulsion centre, kumquat glace and kaffir leaves served with a side of rye bread.
The "orange" itself bears a dominant laksa flavour make up reimagined and dissected into individual components, with the smoked mackerel, kaffir leaves and kumquat glace paying homage to assam laksa.
As a whole, the dish is novel and although has the components of laksa, is anything unlike we've tried before, making for a surprising treat. Served with an Argentinian chardonnay, the wine helps to draw out the lighter and fruitier elements of the dish.
Scene Three – The Sea
Malaysian waters take centre stage with scene three, bringing guests deep underwater and fulfiling the wishes of those who always fantasised of dining at the bottom fo the sea.
Lobster bisque and cauliflower (imitating a piece of coral) fittingly serves as an oceanic tribute to the sea for this course. Lobster, caviar, ice plant, vegetable roulade and lobster bisque make up one half, while burnt cauliflower, fennel frond and fennel gelée completes the serving.
This pairing definitely delivers in terms of satisfaction, with the lobster bisque having a rich shellfish broth that's accentuated with a perfectly cooked lobster tail. The ice plant on the other hand, helps to cut this richness with a refreshingly crisp sensation.
Where the lobster bisque conveyed a robust view of seafood, burnt cauliflower and caviar takes a more subtle appreciation. Smokiness from the cauliflower complemented the salty bursts of caviar goodness and acidity from fennel, rounding out the course.
Scene Four – The Port
We next rose from the sea and found ourselves taking our meal at Enfin to a sunset scenario of the Malaccan straits for the main course. Interactivity also comes into play, as guests will be able to create ripples of water with the touch of their finger on the dining table.
Here, guests will have a choice to choose between fish or beef, with T.Dining opting for the latter.
Wagyu beef, done medium rare, served with Sarawak peppercorn veils, pomme de terre à la chinoise (potatoes), charred broccoli, capeberry mustard and wild fermented chilli olek is a perfect representation of the restaurant's West meets East approach to the meal.
Take a forkful of the beef without any condiments and you'll be rewarded with a satisfyingly juicy bite. Take it together with the spicy peppercorn veils and it then switches up the taste of the wagyu, which the same goes for the mustard, charred brocoli puree, chilli olek and potatoes, creating a multitude of flavours with just one serving of steak.
Scene Five – A Celebration Of Lights
The meal comes to an end with your choice of either coconut or durian bombe alaska, placed on a pedestal and competed with a flaming pour of Hennessy X.O.
With a durian parfait glace centre mixed with 70 per cent single origin dark cacao sponge, the result is a truly decadent tribute to Malaysia's most iconic fruit.
The coconut sweetens the blow of the durian, while the dark chocolate and cognac duo delivers a bittersweet alcoholic pow that keeps you coming back for more.
This special degustation menu by chef James Won is available at RM790+ without pairing and RM999+ with alcohol pairing.
The experience is limited to 16 seats per session and is available for lunch every Saturday and Sunday, as well as dinner every Tuesday to Sunday from now until November 9. Reservations are encouraged to be made via Tableapp.
Those who opt for the alcohol pairing experience will get to enjoy a glass of Hennessy X.O. with their dessert.
However, those looking to upgrade their pairing experience can do so with these choices: Hennessy Paradis 35ml at RM350+, Hennessy Paradis Imperial 35ml at RM500+ and Richard Hennessy 35ml at RM1,100+.