The Ultimate Guide To Finding Your Perfect Christmas Meal In 2018
Make sure you choose the ideal Christmas meal for you and your family this festive season with our handy guide to the best dining offers in town.
1/20The Bowery
The Bowery Group is intent on ensuring that you have the perfect Christmas feast this holiday season with a special menu available from now until December 31. Indulge in inventive festive foods such as pulled turkey and cranberry NY pizza or chestnut and chicken terrine, as well as more traditional offerings like a classic roasted turkey with the works or a black forest yule log. Best part of all is that you can customise your order to your liking with this handy order sheet.
2/20The St Regis Kuala Lumpur
Christmas day celebration comes in the form of two festive roast offerings at The St Regis Kuala Lumpur, with guests being able to choose between a roasted lamb rack or whole roasted turkey. Both will be available at RM698+, with the former going from November 20 to December 31 and being suitable for 6 guests and the latter starting from December 17 to December 31 and will feed 10 guests. Additionally, the hotel is also offering holiday trunks that come with goodies like Christmas stollen, gingerbread houses, terrine, champagne and more, starting from RM518+.
3/20Mandarin Oriental Kuala Lumpur
This popular downtown hotel is preparing for a full on Christmas celebratory period, having dining promotions on Christmas Eve and Christmas Day. On December 24, guests can opt for either a buffet dinner at Mosaic, priced at RM258 per person, or go for a 6-course dinner at Mandarin Grill at RM498 per person. If you're looking for something different, AQUA Restaurant & Bar's Christmas Eve Barbecue Under The Stars event starts at RM258 per person. Come December 25, the hotel will have a grand buffet brunch across four venues, at the Mosaic, Lounge on the Park, Mandarin Grill and MO Bar priced at RM438 per person. If you can't make it for lunch, don't worry there's dinner too at the Mandarin Grill priced at RM188 per person to RM278 per person.
Get the full breakdown of their dining promos here.
4/20Fuego
Celebrate Christmas à la Latino at Fuego from December 22 to 25, with tantalising dishes such as house smoked octopus guacamole, jalapeno croquetas, red emperor snapper and scallop ceviche and more. Starting from RM220++ per person, guests will get to enjoy a smorgasbord of dishes that will definitely give you your money's worth.
5/20The Westin Kuala Lumpur
An Italian Christmas awaits you at Prego, The Westin Kuala Lumpur, made sweeter with wine and champagne. Christmas Eve dinner and Christmas Day brunch goes for RM220 nett per person without drinks. The hotel's all-day dining restaurant The Living Room will have a classic Christmas eve celebratory buffet dinner at RM170 nett per person and a high tea buffet come Christmas Day at RM140 nett per person.
6/20The Ritz-Carlton Kuala Lumpur
This swanky hotel will be putting on a ritzy Christmas at The Library, starting with a lavish three or four-course dinner on December 24 starting from RM275 per person. On the actual day itself, The Ritz-Carlton Kuala Lumpur will be celebrating the merriment two ways – a bubbly brunch and an afternoon tea set. The former will be held at The Cobalt Room starting from RM225 per adult and RM115 per child, featuring fresh seafood, tapas, pastas, soups, grilled meats and of course succulent roast turkey. The latter on the other hand, will go for RM80 per person, getting you handcrafted Christmas desserts and tea accompanied by a live jazz performance.
7/20Nobu Kuala Lumpur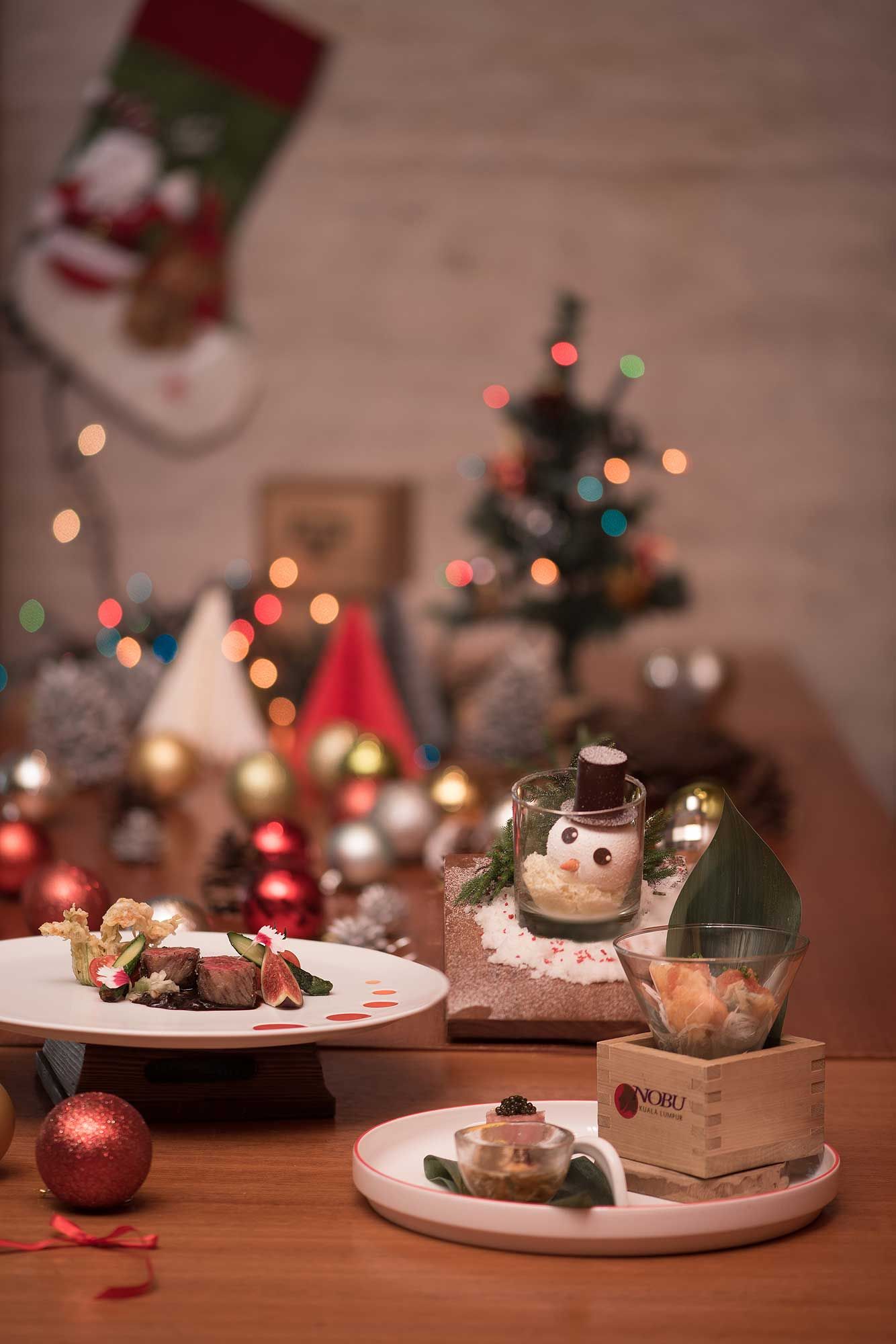 Japanese-Peruvian cuisine might not sound very Christmasy but that may just be the point. From December 22 to 25, Nobu Kuala Lumpur will feature a 7-course Christmas omakase dinner priced at RM590++, sporting dishes like green tea smoked salmon and octopus with matcha foam and jalapeno miso, wagyu wasabi black bean miso, as well as a festive snowman dessert made of a mix of green tea panna cotta.
8/20Hotel Istana
The Songket Lounge at Hotel Istana will be hosting a large Christmas Eve buffet dinner at RM138 nett per adult, with dishes like turkey casserole, crusted salmon with pommegranate cous cous, slow braised sticky BBQ beef ribs and more. On Christmas Day itself, the hotel's Taman Sari Brasserie will have a buffet high tea for RM90 nett per adult, with roast stuffed turkey and roast beef medallion stealing the spotlight.
9/20Nadodi
Downtown Indian gastronomy haven Nadodi celebrates the festive period with a special menu available from December 24 to January 1 at RM550++ per person. The 11-course menu features festive ingredients reimagined remade by the talented kitchen team, with highlights including turkey biryani with berry raita and polos salna, Jaffna crab curry served with moringa flat rice and the intriguing hay ice cream served with tona bean sheets. If you're looking for something unique, Nadodi will give you a fine time.
10/20Le Meridien Kuala Lumpur
Love steak? Of course you do, who doesn't? Well known steakhouse Prime at Le Meridien Kuala Lumpur will be offering a 4-course Christmas Eve dinner at RM388 nett per person or RM428 nett per person with a glass of champagne. Start the meal with a duo of seafood featuring torched hiramasa sashimi and smoke salmon before moving to a rich lobster bisque. Diners will get to choose between a 200 days dry aged beef tenderloin or a sous vide stuffed turkey roulade, ending the meal with a chocolate chestnut yule log. If you feel like having Italian instead, Favola will be hosting a 4-course Christmas Eve dinner, with dishes like chicken and black truffle tortellini and ginger bread cheese cake promising to tantalise your taste buds with festive merriment.
11/20Sofitel Kuala Lumpur
Throughout the month of December Kwee Zeen at Sofitel Kuala Lumpur will be having a festive brunch on every Sunday, priced at RM188 per adult (inclusive of selected house beverages), RM288 (inclusive of Mumm Champagne) and RM94 per child. Come Christmas time, the all-day dining restaurant will be hosting a magnificent buffet spread that showcases Japanese, Western, Middle Eastern and local cuisines to go alongside Christmas delights with the same pricing scheme as mentioned above.
12/20One World Hotel
One World Hotel in PJ will be celebrating Christmas Eve and Day at the Cinnamon Coffee House with a buffet dinner priced at RM168 per adult and RM85 per child, highlighting dishes like the classic must-have golden turkey alongside other tasty offerings like seafood au gratin, chicken cordon bleu, beef medallion with onion marmalade. To top it all off, there's also a Christmas Day high tea from 12pm to 4pm at RM118 per adult and RM59 per child.
13/20Brasserie Fritz
Fancy French? Popular Bukit Bintang French restaurant Brasserie Fritz will be having two special menus for Christmas, one on the eve and one on Christmas Day itself. The 7-course Christmas Eve menu, which will go for RM280++ per person, honours a single ingredient with each course, with standouts including lobster poached with bergamot and celery and beef roasted with onions braised in red wine and foie gras. The incredibly generous Christmas Day brunch menu however, will start at RM150++ per person and will feature an extensive list of gastronomic goodies that promises to give you bang for your buck.
14/20Hilton Kuala Lumpur
Vasco's all-day dining restaurant will be celebrating the Christmas festivities with a generous spread on the December 24, priced at RM200 nett per adult and RM100 nett per child. The restaurant will be continuing the celebration on Christmas Day for lunch and dinner, priced at RM228 nett per adult and RM118 per child. Enjoy a variety of juicy roasts, fresh seafood on ice and all the baked sweets you could possible enjoy.
15/20Grand Hyatt Kuala Lumpur
Sweet treats take the cake at Grand Hyatt Kuala Lumpur's festive celebration weekend buffet called High On Sugar starting from December 1 to 30, priced at RM160 nett per adult and RM80 nett per child. When Christmas arrives, the hotel's THIRTY8 restaurant will be having a lavish dinner buffet spread on Christmas Eve at RM430 nett and RM215 nett for adults and children respectively. On Christmas day itself, THIRTY8 will be holding a brunch buffet at RM430 nett per adult and RM215 nett per child.
16/20Renaissance Hotel Kuala Lumpur
If you're looking to celebrate downtown, Renaissance Hotel Kuala Lumpur is having a Christmas Eve dinner buffet at RM138 nett per person inclusive of a glass of red wine, white wine or mocktail and a Christmas Day brunch at RM128 nett inclusive of a drink as previosuyl mentioned. Enjoy roast prime beef ribs, English rolled lamb leg, Norwegian salmon en croute and the must-have whole roasted turkey.
17/20Hilton Petaling Jaya
Paya Serai at the Hilton Petaling Jaya will be throwing a dinner buffet on Christmas Eve (priced at RM168 nett per child and RM88 nett per child) and Day (priced at RM148 nett per adult and RM78 nett per child), featuring a live seafood station, whole roasted turkey, lamb and venision with the full works, as well as many more delights.
18/20Garage 51
If buffets aren't in the cards for you, Garage 51 is having a special Christmas afternoon tea during the month of December on Fridays, Saturdays and Sundays. The Melbourne-inspired coffee house will be swapping traditional teas for festive drinks the likes of uji matcha cocoa and magic lemonade. Priced at RM68++ for two, booking in encouraged to ensure satisfaction.
19/20The Majestic Hotel Kuala Lumpur
'Tis the season to be hungry and The Majestic Hotel Kuala Lumpur will be celebrating this magical year-end period on December 24 with a traditional Christmas buffet spread at Contango, starting at RM150 nett for lunch and RM200 nett for dinner. The Tea Lounge on the other hand will be having a Christmas afternoon tea in celebration of all things sweet and festive, starting at RM70 nett. Lastly, Colonial Cafe will have a lovely sit-down dinner at RM280 nett per person and RM380 nett with wine pairing.
20/20Hubba Hubba and Tujo by the Soul Society Group
Let the Soul Society Group take some of the stress out of the holiday season. Skip cooking a lavish dinner and eat in or takeaway from Hubba Hubba in Mont Kiara or Tujo Bar-serrie & Grill in KL's Golden Triangle. Festive dishes include leg of lamb (RM600), 120-day roasted Black Angus Striploin (RM340), whole roasted turkey (RM400) and New Zealand whole roasted lamb (RM1500). Be sure to preorder at least 3 days before.