This Dining Experience Guarantees You'll 'Find Your Lucky Star' To Ring In The New Year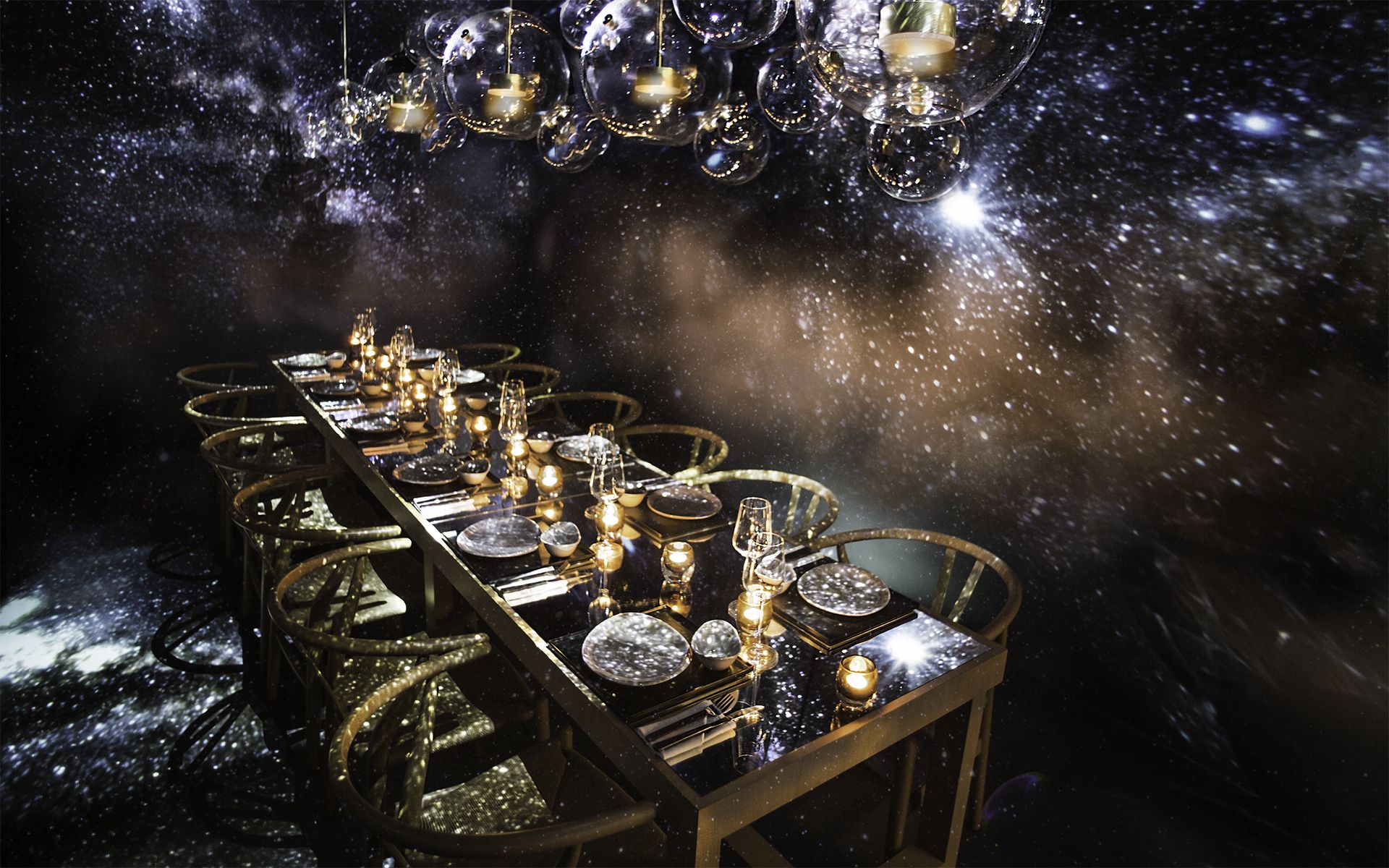 By Jessica Liew
December 20, 2017
We savoured a starlit dinner to cap 2017 at the Sheraton Imperial Kuala Lumpur limited-time 'Find your Lucky Star' pop-up restaurant, and explored otherworldly gastronomy in a dreamy ambiance.
1/7
An otherworldly setting
"How do we make our dreams come true?" is a question we mull over as we toast to the New Year at festive year-end dinners. Stop wishing and start acting upon it – at the 'Find your Lucky Star' pop-up in Sheraton Imperial Kuala Lumpur, diners will step into a fantastical black box, where they'll discover a shimmering star field that gives way to a shower of falling stars to cast your wish upon, as the meal progresses. The brainchild of award-winning interior designer Emma Maxwell, this limited-time experience features a 4-course lunch or 6-course dinner (with wine pairing option) from now until December 29. Under a transforming, evocative 'night sky', our dining journey set off with French flavours…
See also: Disneyland Rolls Out Exclusive $15,000 Dining Experience, 21 Royal
2/7
First course: Ceviche of yellow-fin tuna
To complement the mesmerising concept, Chef Francois Mermilliod of Singapore's French Bar-A-Thym restaurant and Chef Gaetano Di Stefano of the hotel's Italian Villa Danieli took part crafting the menu. Our first course was a bright and enlightening ceviche with supple strips of chilled tuna, paired with festive accents of apple-fennel salad combed with delicate citrus from a yuzu ponzu dressing. Proportions were light and fresh and rightly perked our appetite.
3/7
Second course: Chilled lobster ravioli
Chef Francois has a knack for marrying his French fare with Mediterranean elements and Asian fusions – for our next course, a chilled lobster dish featured chunks of crustaceous-sweet flesh encased in a fine, ravioli wrap. Exotic fragments of guava, lime sabayon and nahm jim boosted the salty and tart combination of the dainty, invigorating course.
4/7
Third course: Seared scampi with angel hair pasta
This impressively plated seafood dish transfixed our dinning party. A butterflied seared scampi was laid upon – snowy flesh intact – with twirls of springy angel hair pasta, and garnished with custardy Hokkaido sea urchin and succulent bursts of sakura ebi. An orchestra of taste profiles and textures, this was a prelude to heavier courses next.
See also: The 5 Places To Celebrate New Year's Eve Dinner With A Bang
5/7
Fourth course: Wild-caught New Zealand grouper with saffron risotto
With each course came more resplendence: Our first main was a tower of sea bounty; layered with a seared chunk of wild caught NZ grouper, razor clams, a saffron infused creamy risotto and enhanced by a smokey eel broth. It was a showcase of the ocean's finest. Flavours excelled at complexity and comfort all at once.
6/7
Main course: Milk-fed veal tenderloin with foie gras foam
How can a main course be indulgent yet merciful on the heaviness? Perhaps it's the carefully sourced, tender cut of young veal cooked to a juicy pink texture, enhanced with buttery smidgens of foie gras foam. Stalked heirloom baby carrots added colour to the presentation, while a side of nutty buckwheat bestowed a crunchy, overall mouthfeel.
7/7
Dessert: Warm pear and raspberries 'Bourdaloue'
The menu ended on a luxurious flourish ticking off sweet, buttery and fruity. An aromatic French tart hybrid revealed a warm, golden pillow studded with pear and raspberry, releasing rustic whiffs. A side of vanilla ice cream, enjoyed with either a crunchy brittle or melted gloriously into the patisserie, was a simple pleasure to savour as falling stars twinkled in the horizon.
Find your Lucky Star is limited to 12 persons per session from now till December 29. or a taste of this one-of-a-kind dining experience this holiday. Lunch is a 4-course menu, and dinner is a 6-course affair. Prices start at RM188 nett, and RM238 for wine pairing. For reservations, call 03-2717 9027 or visit www.pavilionslounge.com for more information.