4 Malaysian Heritage Vacation Stays For An Immersive Cultural Experience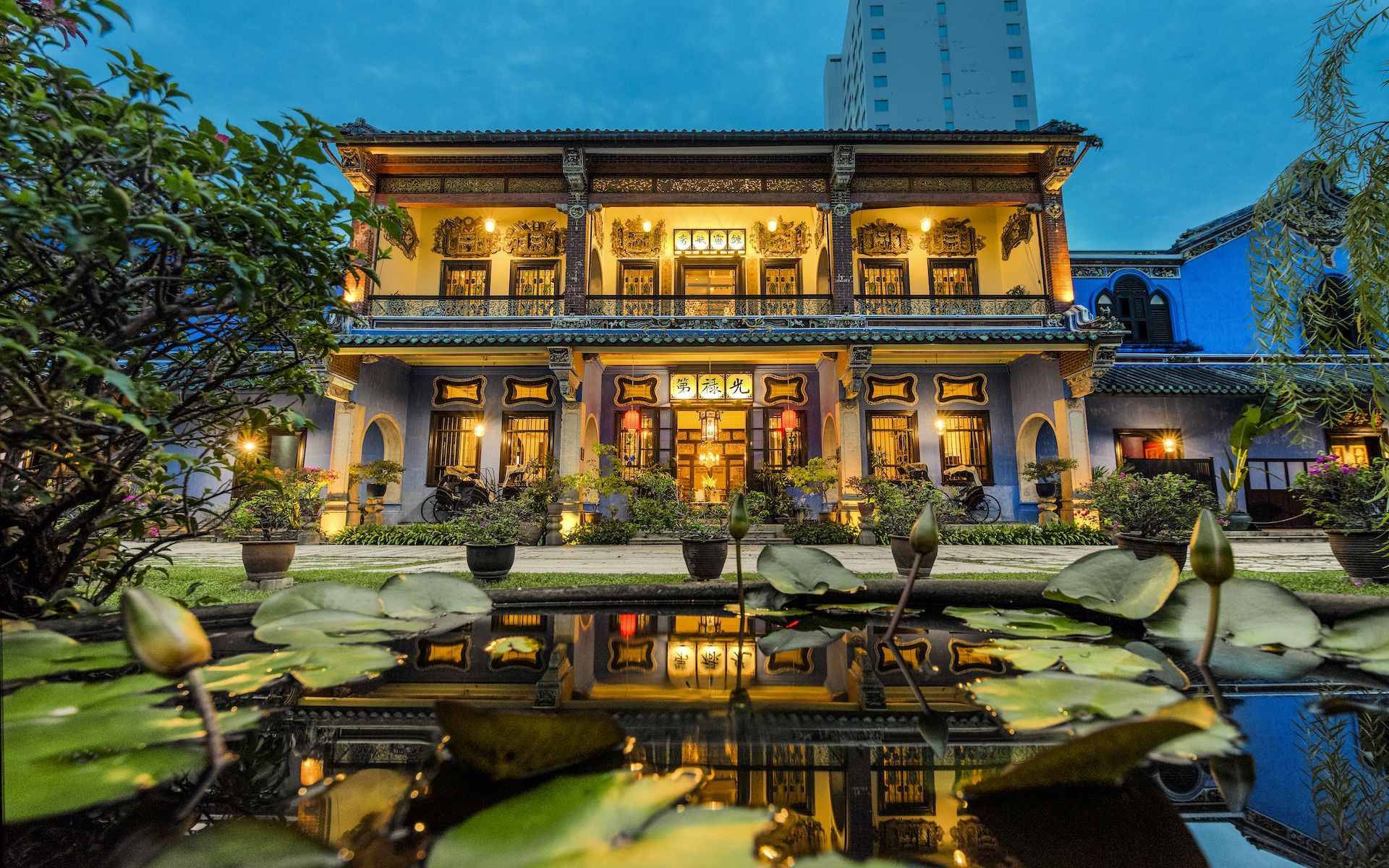 By Jennifer Choo
July 16, 2021
From a curated collection of traditional Malay houses to a 19th century merchant's mansion, these heritage stays are more than just hotels; they are destinations in their own right
Hotels are all about fantasy. For one night even the most modern mister can bed down in a romantic four-poster complete with mosquito netting or indulge in a lavish bath amidst mountains of bubbles. Some hotels weave this fantasy better than others. Here are four destinations where you can be immersed in an authentic slice of culture.
See also: Meet The Malaysian Architects Rebooting Heritage Buildings
Cheong Fatt Tze Mansion, Penang
A stunning Penang landmark, the Cheong Fatt Tze Mansion is one of the most Instagrammed buildings in Malaysia. Looking at its surreal Indigo facade and impeccably restored design elements, it's not hard to see why. Once the home of a Chinese businessman whose influence and fortune was so vast, he was known as the Rockefeller of the East. The mansion was built in the late 19th century when Cheong aspired to house his descendants in a home that personifies majesty and elegance.
See also: Live Like A Crazy Rich Asian At The Cheong Fatt Tze Mansion In Penang
Favouring the traditional Chinese house typology, Cheong spared no expense in its construction, bringing in artisans from Southern China and imported building materials from as far as Scotland. While Cheong had mansions across Indonesia, Singapore, Hong Kong and China, The Blue Mansion, as it was also dubbed, remains his most prized achievement, being more refined than his native home in Tai'pu. It was said that only one of two such buildings of this size, complete with 5 courtyards, and eclectic style exist outside of China.
See also: Hotels In Penang: Author Bettina Chua Abdullah Shares 6 Recommendations
The mansion gradually fell into disrepair after his death and was purchased by a group of Penang conservationists in 1989. Its new owners lovingly restored it to its former glory in 1995, winning UNESCO's Most Excellent Project in the Asia Pacific Heritage Award in 2000. In 2001, it was turned into a boutique hotel, allowing guests to better appreciate its intricate qualities up close.
The splendour of the mansion also lends itself to the screen, starring in movies such as Crazy Rich Asians. Lonely Planet has also recognised it as 'One of 10 Greatest Mansions in the World' in 2011.
See also: Home Tour: A Heritage Penang Shophouse Transformed Into A Modern Loft
Terrapuri, Terengganu
Located along a stretch of beach in Setiu facing the vast expanse of the South China Sea, Terrapuri is a conservation and restoration project of traditional Malay houses. Its name means 'The Land Of Palaces' in Sanskrit and it is aptly chosen one. Walking onto the compound of this heritage village is like walking into a mystical lost kingdom.
The 29 houses were collected by Alex Lee, a history buff and local businessman, who painstakingly sourced them from around the state over 30 years. Ranging from 100 to 250 years old each, the houses were once the dwellings of the Malay aristocracy. These houses were built in the traditional style and feature sophisticated construction techniques which allows them to be completely dismantled. This modular quality made it possible for them to be disassembled at their original sites and relocated to Terrapuri. Here they were restored and put back together by skilled artisans.
See also: The Most Idyllic Luxury Holiday Resorts In Malaysia
The layout of the resort is inspired by the 17th century Terengganu Palace and its grounds. Terrapuri now comprises self-contained villas with modern amenities, a gallery and a beach house.
Not just a cultural haven, Terrapuri is an ideal destination for nature lovers as the four-hectare resort is flanked by the South China Sea on one side and a mangrove river on the other known as the Setiu Wetlands. The wetlands serve as feeding and roosting grounds for seasonal birds and stopover sites for migratory birds. Endangered Painted and River terrapins also travel down river to nest in the sandy shores of the river mouth and beach fringes.
On a clear day, you can view Pulau Perhentian, Lang Tengah, Pulau Cepu, Redang and Bidong islands in the distance while fireflies flash about when dusk settles. Depending on the season, you may even catch green turtles and painted terrapins laying their eggs on the sandy shores.
See also: 6 Stunning Beaches In Malaysia To Visit In 2021
Seven Terraces, Penang
Nestled in a row of seven late 19th century Anglo Chinese terrace houses in the heart of George Town, Seven Terraces is heritage hotelier Chris Ong's spectacular ode to his beloved Straits Chinese heritage. Transformed from its dilapidated state, the hotel is a clever reimagining of life in a grand house of that time with high ceilings and internal courtyards.
Complementing the Anglo-Chinese exterior, the interior harks back to the romance and splendour of the Peranakan Chinese era and one is transported the moment one enters its gilded carved front doors. Cast iron lace work and rows of slatted wooden screens which adorn the interior serve to introduce ornate details to the simple background while antique furnishings and fittings placed in choice spots abet the fiction of visiting at a wealthy friend's eclectic Peranakan mansion steeped in culture and strong family bonds.
Rooms are equally as extravagant with blackwood and mother-of-pearl inlaid furniture and gilded cabinets and tables. Ong's personal collection of priceless antiques add charm and colour in every suite and in fact, some lucky guests may even find themselves bedding down on an original Peranakan Chinese wedding bed.
His noted Kebaya restaurant echoes the gilded screens, rococo chandeliers and exquisite antiques found through Seven Terraces. Here, guests tuck into Peranakan food prepared with contemporary techniques in opulent surroundings reminiscent of the hey day of 1920s Nyonya glamour.
See also: Home Tour: History Meets Modernity In This Heritage Home In Penang
The Snail House, Melaka
Located in the patrician townhouses of Heeren Street (now Jalan Tun Cheng Lock) in Malacca, The Snail House is Frenchman Serge Jardin's fulfilment of his ambition to live in a Straits Chinese townhouse. A geographer and historian by training, Jardin's love affair with Malaysia began when he arrived as a tour leader for Club Med in the 1980s. Since then he has shared his love for the country as a tourist's guide and travel agent while becoming an accidental author, publisher and translator.
Along with his Malaysian wife, Jardin bought the house prior to Melaka's UNESCO listing, so the site was not governed by heritage guidelines, Nonetheless, Jardin wanted to preserve the house with a minimum of transformation.
Still in good condition when purchased, Jardin, along with a team of workman, went about doing the renovation and used traditional materials such as cement lime, cement plaster and lime wash, kept the original features (wooden beams, shutters, windows and doors, cement floor tiles, and ceramic decorative tiles). Modern facilities were added in the three bedrooms, recycling the doors and wooden partition of the original five bedrooms.
The home blends Jardin's personalities with local culture and features wooden furniture from the Straits Eclectic era and rattan furniture beloved in tropical climates. It personifies Jardin's emphatic wish to make it a house to live in, and not a museum to be seen.
Today, this labour of love is known as the Snail House, a reference to a feature on the façade of the house which looks like a snail (but is not). It is also called so because being inside the house feels like being in the shell.
A love letter to Peranakan architectural traditions, The Snail House is only available for home stays upon recommendation.
See also: Private Retreats In Malaysia For A Post-Quarantine Staycation