Ask An Insider: Why Is Art Expensive?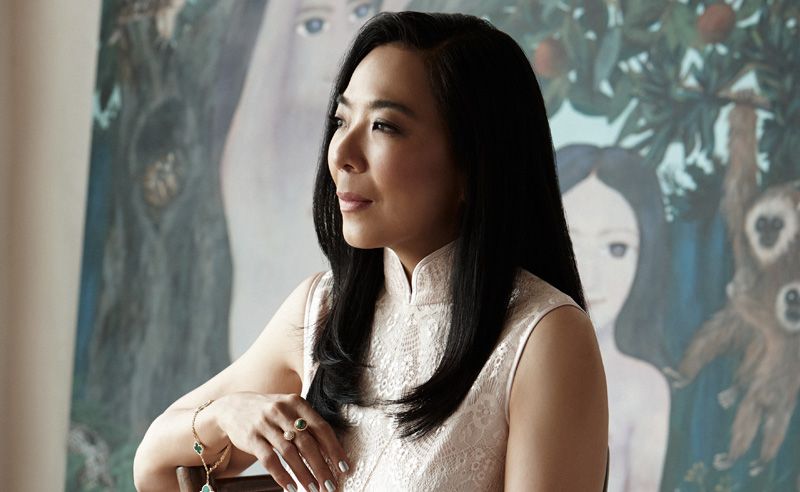 In a heart-to-heart conversation with KL's beloved gallerist, Lim Wei-Ling, we get to know why art is priced the way it is.
On May5, 2017, a large abstract painting of a skull by artist Jean-Michel Basquiat became the most expensive piece of artwork sold at an auction at Sotheby's, New York priced at a whooping USD 110.5 million ! (RM 471 million)
This leads us to pose the question that may have crossed many a mind – Why is art priced the way it is?
READ ALSO: 5 International art events you wouldn't want to miss in 2017
To get some answers, we spoke to the eloquent Lim Wei-Ling. Having represented some of the nation's best artists at national and international events, including the prestigious Art Basel in Hong Kong and Art Stage Singapore, Wei-Ling runs a deep connection with art and artists.
Against the background of Malaysian contemporary artist Ivan Lam's latest collection Vanity Project X and cups of hot herbal tea, we sit down at Wei-Ling Contemporary, The Gardens Malls, to further probe the question.
---
Why are some works of art priced so high?
The mere fact that a particular piece of art is limited and that there can be only one in the world that is original, gives it value.
That being said, not all pieces of art are created equally. As with everything in this world be it fashion, cars, watches or properties there are various factors that determine why a certain brand commands a value that exceeds that of their counterparts.
Ultimately it all boils down to the artist. Works of art should be the conduits between an artist and their viewers. A great and honest artist captures the essence of his/her times in their oeuvre. They create art for arts sake. When you come across an artwork created by an artist who is known for his honesty, integrity and principals then you know you are collecting an artist of value and there in lies the worth of real art.
---
How would you explain 'art as an investment'?
Personally, I do not encourage collectors who buy art for immediate resale or investment.
But as a gallerist and in running a commercial gallery, I do understand that in collecting a work of art, that there has to be some sort of NTA at the end of the day.
If you collect a serious, real artist, the piece you collect will appreciate in value with time. Of course, you need to do prior research about the artist before investing in their work. Do take a look at their previous work and observe how their work has evolved over time.
If you see too many similarities in style, then perhaps what you are looking to collect may not be that unique after all and may therefore not retain its value.
---
What are the factors we should consider before buying a particular piece of art?
Buy what you like, first and foremost.
Secondly take a look at the artist's CV before making a purchase. This will reveal a lot about their career thus far-previous exhibitions,where they were held and how prolific they are. In most cases it is best to approach a gallery who has been representing the artist for a period of time,as they should be able to share information about the artist,their philosophy and journey.They should also be able to share previous works by the artist with you.
Also do be wary of artists whose works can be seen in multiple galleries in the same city,as this could indicate that their work has been created for commercial purposes and there is no long-standing commitment to their art.
---
Do you think it is difficult to make a living as an artist in Malaysia?
When artists first start out, it is difficult to make ends meet. At unviersity talks I often find myself advising , art students upon graduation to take up a part-time job like teaching to pay the bills.In doing that, it will allow for them to concentrate on and not compromise on their art.This means, they will not be forced to make artworks for the sake of making a sale.
If an artist has the stamina and perseverance to abide by this and not take the easy way out, they will continue to grow, take risks and evolve in their art careers and their artworks will only appreciate in value over time. Eventually they will not only be able to make a good living as an artist, but will also be given the respect that is accorded to artists who have stayed true to their art.
---
What would you like to say to budding artists out there?
As an artist, don't fear to take risks or venture into the unknown. Many a times, you might take a look at the practical aspect of situation and end up compromising on creativity. Instead, circumnavigate your way around and look for a better solution that gives both space and time for art to evolve. My advice to all artists: A comfort zone is a beautiful place but nothing ever grows there.
---
What is the most favourite piece of artwork you own?
Now that is a difficult one! Over the years we have had the opportunity to collect some seminal and important pieces but naming a favourite is nearly impossible as they are all meaningful and have made a difference to our lives in some way.
---
(Photos: Wei-Ling Gallery)
Also get to know why cocktails are priced the way they are as award winning bartender Shawn Chong shares some secrets of his trade.