All The Great Features To Know About The New MacBook Air
By Jianne Soriano
November 12, 2020
The new MacBook Air is here boasting the M1 chip, specially designed for Mac and flaunts other new and upgraded features
Following the launch of its next generation of iPhones, featuring four models of iPhone 12 together with its other new products last month, Apple has just announced its latest drop during its One More Thing event—the new MacBook Air. It's the thinnest and lightest notebook packed with the powerful and revolutionary Apple M1 chip that boasts incredible speed and long battery life.
"The introduction of three new Macs featuring Apple's breakthrough M1 chip represents a bold change that was years in the making, and marks a truly historic day for the Mac and for Apple," said Tim Cook, Apple's CEO.
Appearing almost identical to its predecessor, the new MacBook Air has an exciting line-up of new and upgraded functions. We break down everything you need to know about the latest MacBook Air.
See also: Review: Apple iPhone 12 Pro
1/11 Tiny Chip, Incredible Power
The new M1 chip is designed specifically for Mac. Packed with an incredible 16 billion transistors, the M1 system on a chip integrates the CPU, GPU, Neural Engine, I/O and many more onto a single tiny chip. Dubbed as "the next step for Mac", the chip boasts an incredible performance, custom technologies and new levels of power efficiency.
Before the M1 chip, MacBooks needed multiple chips for all of its features to function. With M1, all of those functions are condensed into one. The chip was designed to work with the most advanced desktop operating system in the world—mac OS Big Sur. It's the first personal computer chip built using 5-nanometer process technology.
Other than that, M1 also unifies the high-bandwidth, low-latency memory into a single pool. This means that all of the technologies in the computer can access the same data without copying it which dramatically improves performance and power efficiency so you can expect games to be more detailed, videos to be more vibrant (up to 3.9 times faster) and image processing to be faster (up to 7.1 times faster).
"M1 is by far the most powerful chip we've ever created, and combined with Big Sur, delivers mind-blowing performance, extraordinary battery life, and access to more software and apps than ever before. We can't wait for our customers to experience this new generation of Mac," said Cook.
2/11 Lightning Speed CPU
8-Core CPU
M1's 8-core CPU is the highest-performance CPU in all Macs. It puts together four performance cores and four efficiency cores that work in harmony to tackle demanding tasks. Only a fraction of the power is needed to performance tasks, which helps to preserve battery life.
Performance Cores
Boasting the world's fastest CPU core when it comes to low-power silicon, the M1 chip combines the power of four cores for a massive boost in performance. The cores are the most efficient among previous models whether you're running lightweight tasks or heavyweight ones.
See also: The New HP Envy Laptops Are Designed For Creators On-The-Go
3/11 Faster Graphics & Long Battery Life
8-Core GPU
Thanks to M1 as well, the 8-core GPU or graphics processing unit is the most advanced ever and the world's fastest integrated graphics in a personal computer, capable of executing nearly 25,000 threads at a time. It's up to 5 times faster in graphics performance compared to its predecessors.
High Graphics Performance
The new MacBook Air can handle graphics-intensive projects including video editing that seamlessly playback multiple streams of full-quality 4K video without frames lagging. If you use Final Cut Pro, you can enjoy 5.3 times faster 3D title render speed.
Boost In Battery Life
Up to 18 hours of battery life, which saves you 6 hours of charging.
4/11 Goodbye Noise, Hello Air
Thanks to the M1 chip, expect better performance without a fan. The aluminium heat spread dissipates the heat that the system generates so no matter how demanding or intense the task is, enjoy noise-free usage.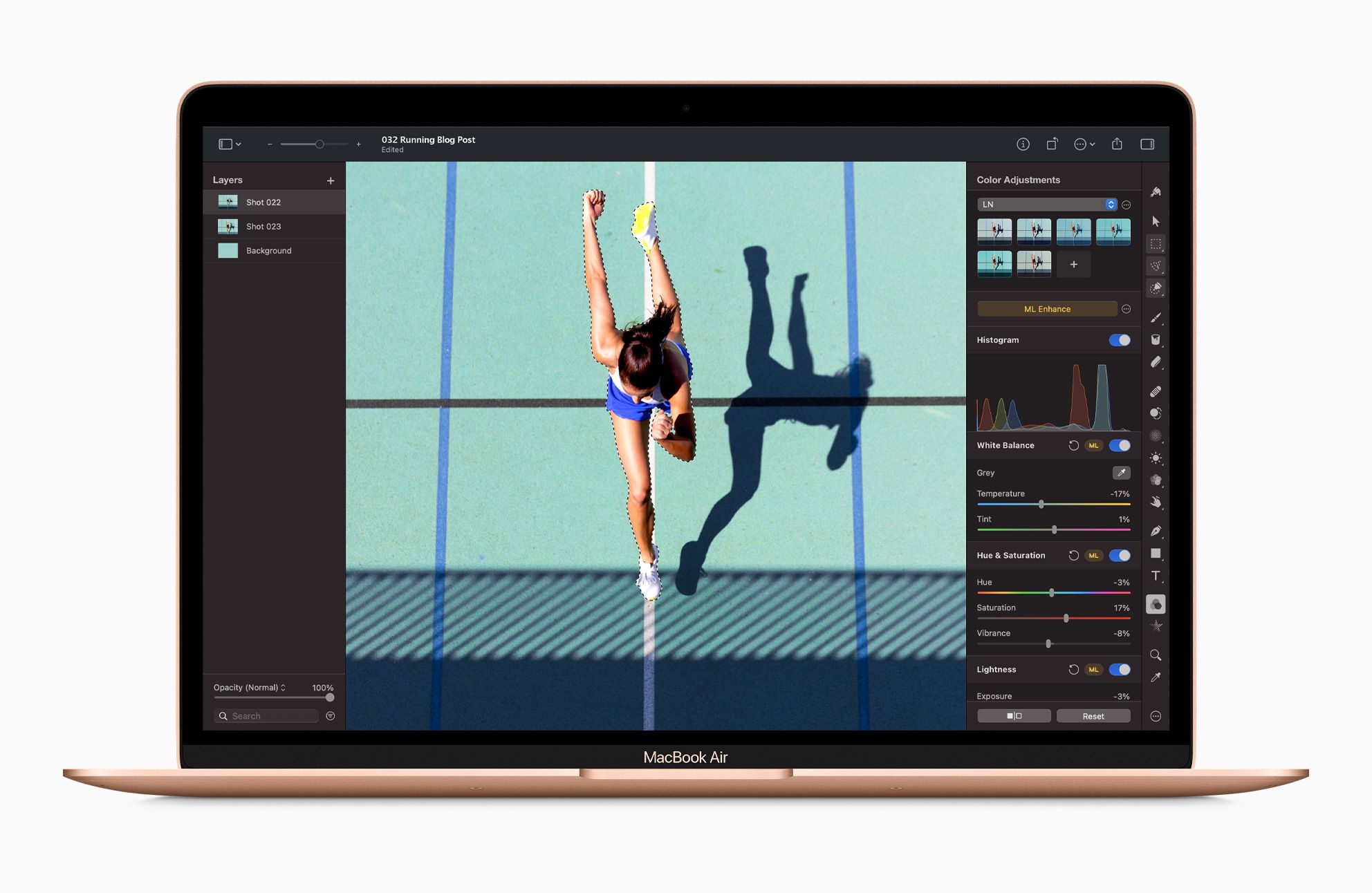 5/11 Advanced Machine Learning
Machine Learning Magic
The Machine Learning (ML) allows the apps to build and apply models based on massive amounts of data from simple tasks such as identifying friends and family in photos and videos, interpreting natural language for dictation to analysing audio to recognise laughter, applause and other types of sound. All the data is processed on your device for privacy.
Neural Engine
The M1 is also a leap in machine learning with its 16-core design capable of executing 11 trillion operations per second which is up to nine times faster than previous models. Together with its 8-core GPU, machine learning accelerators and Neural Engine, the M1 chip excels at machine learning.
Apps on the MacBook Air can use machine learning to automatically retouch photos, use audio filters and more perform better at auto-detection.
Full Optimisation
The M1 chip is engineered for ML. The CPU, GPU and Neural Engine are all created for different types of ML workloads with the ML performance controller distributing different ML tasks to the correct place to maximise performance. With two dedicated ML accelerators, expect fast matrix multiplication that executes up to one trillion operations per second.
6/11 Powerful Software
To maximise the potential of the M1 chip, the macOS Big Sur transformed the Mac with major performance benefits including powerful updates for apps, new design, privacy features and security.
Speed
The M1 chip and macOS Big Sur join forces to make the entire system faster—from flipping through photos to browsing Safari.
Apps
Enjoy apps built specifically for M1 while making use of existing apps that work well thanks to Rosetta 2. Have the access to the biggest collection of apps ever for Mac.
Unified Memory
You get 16GB of unified memory, thanks to the M1 chip. A single pool of high bandwidth, low-latency memory allows the apps to share data between the CPU, GPU and Neural Engine efficiently. This also allows access to the same data without copying it between multiple pools of memory to improve performance and power efficiency, making your system more responsive without burning battery life.
Storage
Up to 2TB storage with up to two times faster solid-state drive (SSD).
Privacy Protection
The Secure Enclave coprocessor provides a silicon-level foundation for critical security features such as Touch ID and Apple Pay. There's also a dedicated storage encryption engine that will keep your encryption keys safe. An activation lock will keep your Mac secure if it's ever lost, stolen or misplaced and help you recover it easier.
Make use of hardware verified secure boot and automatic high-performance encryption for all your files.
7/11 Upgraded Retina Display
Images on the MacBook Air are detailed thanks to the 13.3 inch, 1560 x 1600 resolution Retina display. Expect text to be sharper and clearer because of higher pixel density and colours to be more vibrant than ever. You can also see a wider palette of colours on display with 25 per cent more colours than sRGB.
Using true tone technology, the MacBook Air automatically adjusts the white point of your display corresponding to the colour temperature of your environment for a natural viewing experience that's easy on the eyes.
See also: Apple Opens Its First Floating Store At Marina Bay Sands, Singapore
8/11 Better Camera & Mics
Want to look your best for every FaceTime call and video conference? The image signal processor in the M1 chip will help you with that. There are three built-in microphones that help what you get heard, with clarity, whether you're on a call or talking to Siri.
The FaceTime HD camera will show clearer and sharper images where you can see more detail in shadows and highlights. Because of the Neural Engine, face detection will adjust white balance and exposure accordingly.
9/11 Your Ideal Keyboard Type
The keyboards have new pre-programmed shortcuts allowing you easier access to the most useful features. Whether you're asking Siri for help, switching keyboard languages or finding the right emoji—you can find it all with Spotlight. Dictation and do not disturb keys also replace launchpad and keyboard brightness. The backlit keys with an ambient light sensor will help you type in low-light settings.
It also boasts a refined scissor mechanism that aims to deliver the best typing experience complete with precise control of the Touch trackpad for easier room to swipe, pinch or zoom.
With the Touch ID, you can easily unlock your MacBook Air to rent a movie, buy or access documents without needing to reenter your password. When you shop online with Apple Pay, Touch ID automatically fills in your shipping and billing information.
10/11 Seamless Compatibility
Wi-Fi 6
This is the next generation of Wi-Fi—it's faster and keeps your Mac stronger, allowing even more devices to join the network.
Thunderbolt/USB 4
The Thunderbolt allows data transfer, charging and video output consolidated into one single port—with two of them available on the Mac. Enjoy 6k external display, data transfer of up to 40 GB per second.
11/11 Price & Pre-Order Date
The MacBook Air is available in both 256GB storage for RM4,399 and 512GB storage for RM5,399. Visit Apple Malaysia's website for updates.