Datin Paduka Marina Mahathir Tells Women To Go Out There And Travel, Safely And Smartly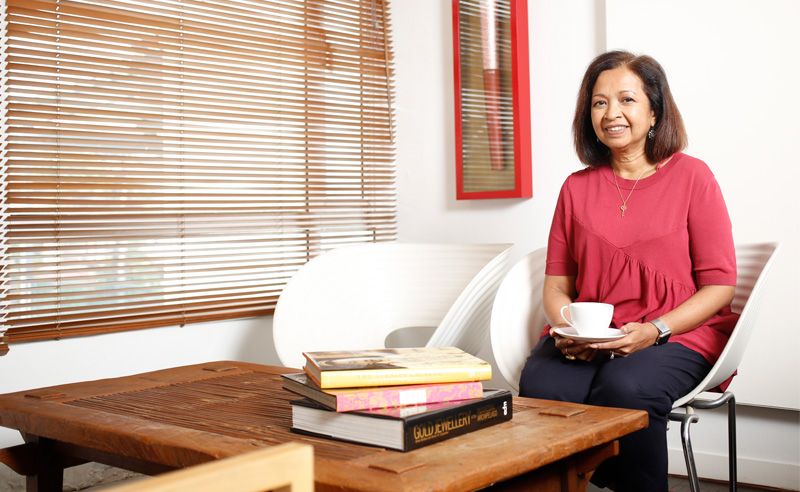 Founder of the online travel publication, Zafigo, Marina Mahathir talks about how solo women can travel safely and what her upcoming conference at GTF 2017 is all about.
In a world where we are booking hotels online, paying bills by waving our credit cards and crossing countries by the biometric scanning of our thumbs, the topic of solo women travellers still raises eyebrows and gives birth to sceptical looks.
"Although times are changing, in certain cultures, especially in Asia, decisions for a woman are made either by her parents or if she is married, by her husband. Travelling solo is a sign of her independence and an unheard concept in many traditions," says Datin Paduka Marina Mahathir, founder of Zafigo – an online travel publication that provides guides and tips for women travellers.
The idea she further adds, emerged when she faced a dilemma on what to wear for a business meeting in Islamabad, Pakistan. "I knew a pantsuit would not be an appropriate choice of attire in a conservative Pakistani setup. But would a baju kurung work?" she wondered as she eventually settled down for the traditional Malay attire.
Several similar incidences and conversations later, she realised the need for a portal that provided women with information to help them travel better and address fears that a woman might have when she travels.
"With Zafigo our idea is to inspire, answer questions and provide information that encourages women to travel safer and smarter," says the human rights activist.
We pose a few questions to the eloquent Datin Marina to get some handy tips from her years of travelling experience and to further explore the subject of women and solo travelling.
How can we change this whole perception about women and travelling?
By travelling better and setting an example that you can manage yourself, even in unfavourable circumstances.
The media is always reporting horrible incidents about women disappearing or getting raped when they are out in the unknown. Our motive should be to travel safe, travel well and to not be one of those thousands.
Would you say Malaysia is a safe country for solo women travellers?
I think generally, Malaysia is a safe country for women travellers. Of course, you need to stick to some of the general travel rules, such as being aware of local customs and respecting the culture, which is applicable anywhere.
What does travelling mean to you?
Travelling has expanded my horizons and pushed me out of my comfort zone. You often read about a certain culture in say an article or in a book. But experiencing it firsthand opens many windows and breaks down barriers that you might have initially harboured about a certain country and its people.
Your tips for travelling well would be…
Be well informed and sort your itineraries well in advance. That really gives a good head start to your travels.
Make use of technology and keep all your important documents, such as your passport and driver's license in a soft copy form in case of an unfortunate incident of theft.
Dress appropriately, especially when you are travelling alone and are off to a conservative country to avoid stirring unnecessary attention.
Especially for women who love to play dress-up, keep your luggage light and pack what you need so you don't have to bother about laundry when you are on the road.
Tell us about the women travellers who inspire you.
Ah, well there are quite a few women out there who I really admire. My recent inspiration, however, would be Hermandari Kartowisastro, a 74-year-old woman I was fortunate to meet on my recent trip to Patagonia.
She has travelled solo to over 65 countries in the past few years, has a trip to Antarctica and Russia in store for this year already.
I draw inspiration from her positive and upbeat attitude and hope that I can do the same at her age.
Datin Marina along with her fellow Zafigo-ers will be organising a one of a kind conference for women travellers in conjunction with George Town Festival from August 29 to August 31, 2017; the prime week during which the festival will be focused on more women centric activities.
Called as ZafigoX, the three-day conference will revolve around the question of women and travel. Comprising of talks, panels, workshops, a bazaar and other activities, ZafigoX hopes to create a platform for women travellers that can be scaled way beyond the online portal.
Prominent speakers at the conference would include Manal al-Sharif; the woman from Saudi Arabia who initiated the Women2Drive campaign to enable women to drive without the assistance of a male guardian, Malaysian hitch-hiker Petrina Thong, solo Korean cyclist Jin Jeong, travel writer Deborah Chan and others who are monumental in changing the blatant attitude towards women who defy the norms.
The conference which also includes workshops on self-defense and photography will feature an artisanal Bazaar run completely by women entrepreneurs.
"This is our second conference with Joe Sidek and George Town Festival and we hope we are able to uphold to the expectations similar to that of our first Zafigo Talks experience," added Datin Marina.
Building a community for women travellers, ZafigoX will create a common-ground for women to freely discuss their adventures, inspirations and inhibitions, prompting them to develop the courage to just go out there and explore!
For more information about ZafigoX, click here.
(Photos: Shaffiq Farhan/ Malaysia Tatler)
A non-profit organisation, the volunteers of Women On A Mission brave the icy cold of Siberia and the scorching heat of Siem Reap to inspire women all over.