The 10 Family SUVs In Malaysia For Your Growing Tribe This 2018
For couples expecting a new addition to the family ranks, here are 10 SUVs that will give you the upgrade you need to take your family on the road.
BMW X5 xDrive40e
If you like the design stylings of BMW's X series but are also worried about the environmental impact of your car, the X5 xDrive40e hybrid is the SUV for you and your family. Locally assembled in Malaysia, the 5-seater is just the right size for your first family car buy.
Using the car's electric and petrol engine, the X5's fuel consumption is 3.3 litres for every 100km. The car comes with a heads-up display, a driving assistant system that includes lane departure warning, city collision warning and pedestrian collision warning, as well as park distance control front and rear with visual and acoustic feedback.
The car comes with 500 litres of boot space, with an extra 1,720 litres if the back seats are folded. Safety features include: the standard airbags for the driver as well as front passenger, head airbags for first and second row seats, central locking system with an electronic immobiliser and crash sensors, run-flat tyres and more.
Find out more here.
Honda CR-V
Often cited as "the best family car" by multiple car reviewers, the latest variant of the popular SUV comes with a new technology that uses next generation sensing to detect imminent danger and reduce the likelihood of collision, which is great news for any family car.
The CR-V even has a driver attention monitor to alert you with sounds and vibrations if it detects that your attention level is low. Leave your phone where it belongs when you drive, in your pocket, thanks to seamless connectivity with Apple's Carplay and Android Auto, enabling you to control your phone's functionality while driving.
To ensure the safety of its passengers, the car also comes with vehicle stability and cornering stability assist systems, as well as a camera mounted on the side mirrors to ensure that you don't miss out any blind spots when cutting or turning into a lane.
Find out more info here.
Land Rover Discovery
This new variant 7-seater SUV is tough without sacrificing luxury, with a pleasing aesthetical exterior and interior design. Quality leather, wood, and metal finishing is used throughout the car for a premium feel.
Each of the 7 seats are made with comfort and versatility in mind, with the capability to configure the second and third row seating using cargo space switches or the main touchscreen. You can even configure the seats remotely via a smartphone app when you aren't even in the car.
On the road, the car shines with stability control systems electronic power steering assistance, but off road capabilities are no slouch either. The Discovery being a Land Rover, you can be sure you and your family will get the protection you need from the elements.
Learn more here.
Toyota Harrier
Once dominant on Malaysian roads, the Harrier makes a return with a new version that retains the model's signature looks yet in a modern form. As a family car, the Harrier has a pre-crash system to help reduce frontal collisions by automatically applying brake pressure in emergency situations.
The car also has adaptive cruise controls that helps the car automatically maintain a safe distance with vehicles in front to reduce driver fatigue.
Front seats even come with lumbar support, ventilated support and automatic brake hold. In the performance area, the car has a 2.0 litre twin-scroll turbocharged engine and a 60 litre fuel tank, among other features.
Learn more here.
Lexus RX 450h
With that recognisable front grill, this luxury Japanese SUV is a hybrid with all the latest modern features.
The car comes with a high-strength, collision-absorbing body structure protects you and your loved ones from impacts on the front, rear, sides and roof. With a blind spot monitor, drivers will be able to know when vehicles are approaching with fitted radars that detects up to 60 metres.
The SUV also comes with 10 airbags for maximum protection in case of a collision, a high-regidity body that ensures ride stability and good fuel economy.
Discover more here.
Mazda CX-9
The largest model of Mazda's SUV range, this 7-seater comes with a 5-star safety rating from Europe's NCAP (new car assessment programme).
All seats are crafted with comfort in mind, with the ability to fold the second and third rows with the touch of a button.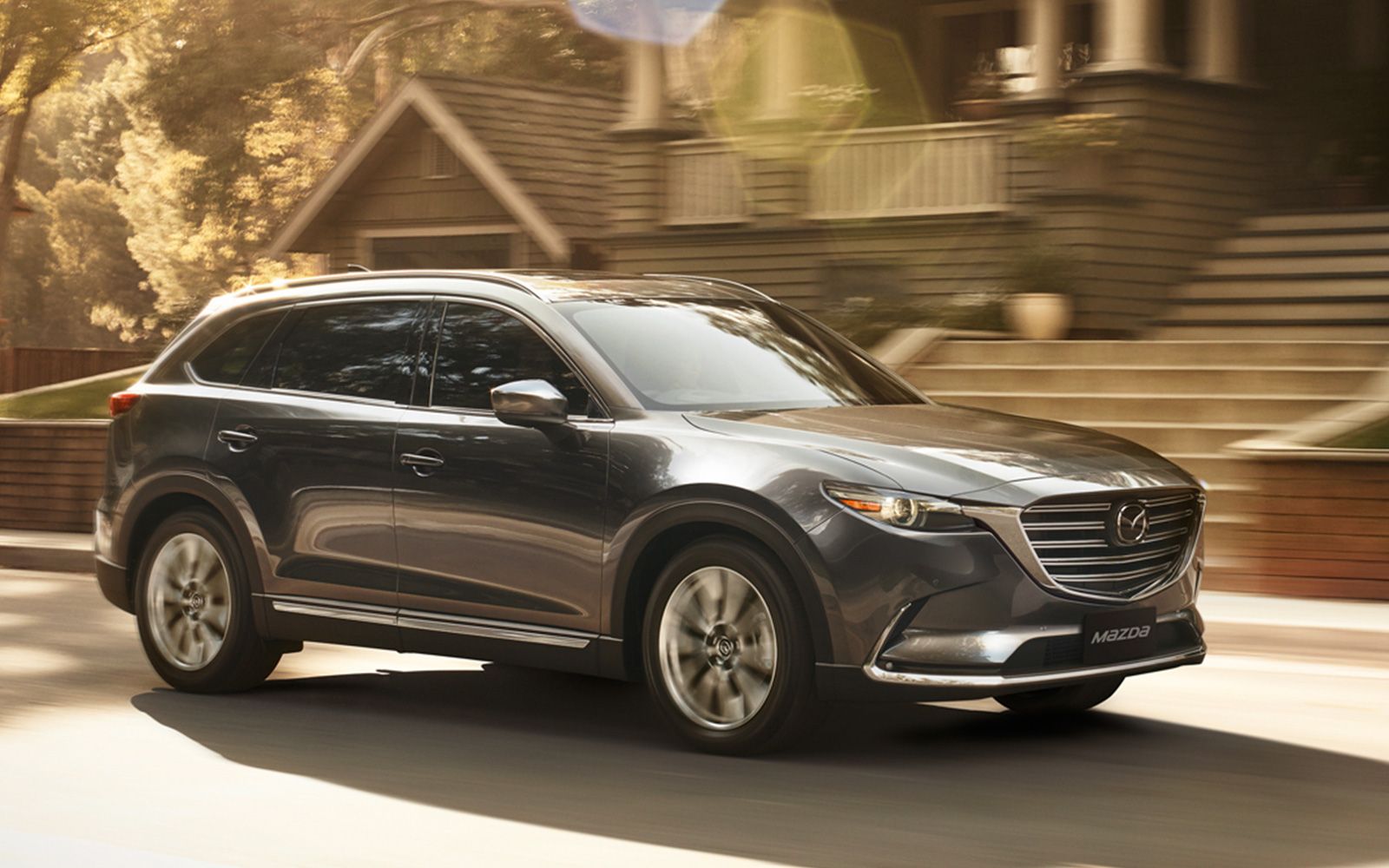 CX-9 comes with adaptive LED headlights for better road presence at night, a smart brake support when driving in the city, blind spot monitoring, lane departure and lane-keep assist systems, as well as driver attention alert.
Learn more here.
Mercedes-Benz GLE
Built for both on and off-road driving, the GLE is a great choice for the active urban family that likes to go out of the city for weekend adventures from time to time. Packed with the German automaker's Intelligent drive functionalities, get the most out each road adventure with comfort and safety.
Raised seats offer what the brand is saying "quite literally the highest level of comfort", with the largest shoulder width in its segment and space for three child seats at the rear.
The GLE comes with active lane keeping asisst, a heads-up display, the brand's Pre-Safe system that ensures better safety before collision and attention assist functionalities, among many others.
Click here for more info.
Peugeot 3008
Smooth fluid lines and a chiselled appearance are the design hallmarks of this French SUV. The 3008 model won the 2016 and 2017 Dakar Rally, as well as the 2017 European Car of the Year award, so you know it's built with performance and quality in mind.
The 3008 has a new i-Cockpit that puts the driver front and centre of full control of the car, a high-strength structure, speed limit recognition system, driver attention alert, front and rear park assist and much more.
The car has also been awarded a 5-star Euro NCAP rating and is built for great off-road capabilities.
Find out more here.
Audi Q7
Deceptively agile for its size, the Q7 is a hulking car that's both big in size and quality. It's also a Quattro car, Audi's all-wheel drive system, meaning superb handling is a definite.
Capable of seating 7 individuals, and even up to six child seats, this is a family car that doesn't compromise on quality and performance. No matter the individual, seats are snug and comfortable.
The car even has the option to add additional luggage boxes on the roof of the car that's aerodynamically designed to ensure a smooth ride. With a V6 petrol engine at the heart of the car, the SUV only uses 7.9 litres of petrol for every 100km on avereage.
Click here for more info.
Volvo XC90
Awarded the "Premium Luxury SUV of the Year 2016" at the ASEAN Car of the Year Awards, you can expect a high level of safety assurance from the Swedish carmaker.
Everything in the car is designed to ensure passenger safety, such as the seats' slim designed that offer good protection in the event of a collision.
This hybrid SUV comes with adaptive cruise control, front collision warning, as well as pedestrian and cyclist detection with full auto brake capabilities, among the list of Volvo's safety systems. Given the carmaker's reputation for safety, you and your family won't be let down.
Find out more here.