How To Style Your Shelves For Zoom Meetings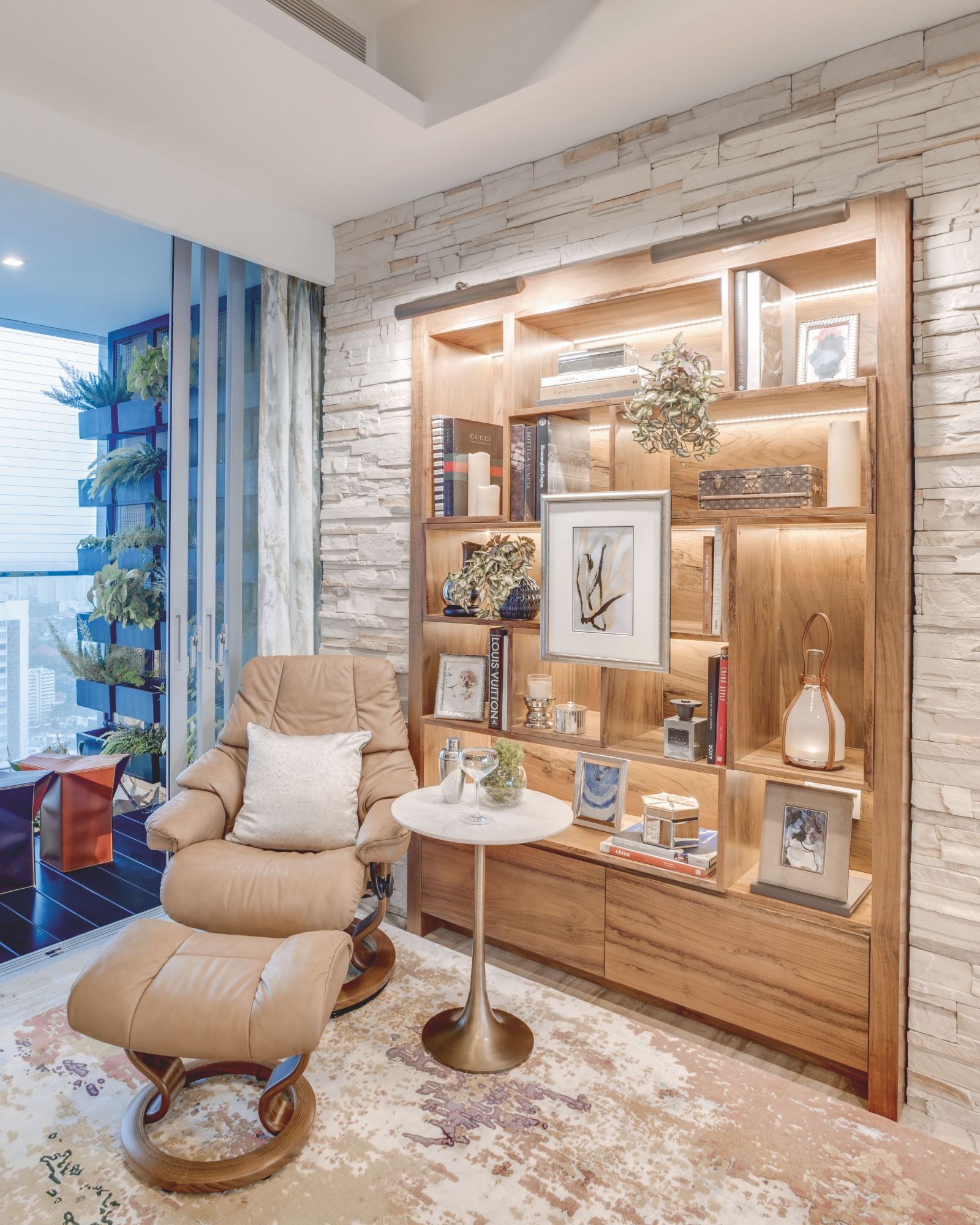 More than just an organisational tool, shelves are a platform to showcase your creative prowess and a window into your personal taste. They also provide the perfect backdrop for your online meetings.
In case you haven't heard, the #shelfie has made a comeback— the bookshelf is now a favourite among Instagrammers and Zoom-users alike, serving as both beautiful backdrop and a curated tableau of one's lifestyle.

What is a shelfie? In short, it's a picture-perfect showcase of shelves decorated with beloved books and peppered with an eclectic mix of art, keepsakes and plants. The appeal of the shelfie lies in the fact that one can easily display a random assortment of quirky mementos, while adding a personal touch to their room.
"Shelves are a way of telling your story through little trinkets collected over the years. Not only is this aesthetically pleasing, it's also a great way to move around items to give the room a fresh look," says Jennifer Soh, general manager for sales and marketing at Space Furniture.
See also: King Living Sets The Standard For Outdoor Living With Style & Comfort
1/4 Showcase Objects You Love
Chloe Elkerton, founder and creative director of E&A Interiors, advises displaying only the pieces you really love. "It can be the favourite antique vase you picked up in Paris or a bronze statue from Indonesia—your home tells a story and it's nice to have treasured pieces. But be selective and don't be tempted to display everything as you don't want a 'museum' look," she says.
This may seem counter-intuitive, but you don't want your bookshelf to appear contrived. The best way to go about it is to work with objects that you already own, and elevate the look of your shelves with some coffee table books and plants.

"Include items that represent you to personalise the space," says Tay. Photos and artworks can elevate the appearance of your bookshelf, too. Elkerton has this tip: "Leaning artworks against the back of a bookcase is a casual yet stylish way to display art and framed pieces. Hanging a print or a unique mirror on the front of the shelves can break up the boxy grid and add a layering effect."
See also: 3 Ways To Restyle Your Home Without Breaking The Bank
2/4 Mix and Match
"Experiment with different shapes, textures and colours to create depth and interest," says Jeremy Tay, director of Prestige Global Designs. He warns against overcrowding your shelves—do keep some areas partially empty instead of cramming every shelf with objects. "The way these items are arranged is important in creating a harmonious composition."

Elkerton recommends featuring corals and shells on your shelves as well as sculptural pieces for an interplay of textures and volumes. Large items can be displayed on their own and smaller ones can be grouped in pairs or placed on books. "Start with your larger items first to get a sense of scale and balance before adding the smaller items," she says.
See also: Kyle E Yon & Jun Ong Of Pow Ideas Are Rising Stars In Interior Design
3/4 Colour Coordinate
As much as eclecticism is encouraged, you'll still need a cohesive colour palette to avoid having too-busy shelves clashing with the look of your room. "Create a colour-coordinated look for the entire area that flows from the shelves to the furniture and the flooring," says Tay.

To do that, Elkerton advises choosing a maximum of three colours to maintain consistency and a "steady rhythm of colour". "Be sure to use some neutrals to balance out textures. This can come in the form of metallic finishes, wood, wicker and ceramics," she adds.
See also: Go From Bedroom To Luxe Hotel Room In 7 Bold Steps
Elkerton suggests coordinating the colours of the book spines and choosing book covers in shades that highlight and complement your interiors, or arranging your books in blocks of colours.

Not a bibliophile? No problem. Terri Tan, design director of Designworx Interior Consultant, created stunning shelves at different areas in their office; these are filled with various curios, sculptures and awards that the design firm has collected over the years. "There is always something of interest to catch the eye," she says.
4/4 Be Book Smart
If you are truly serious about your personal library, why not take it up a notch by making your bookshelf the centrepiece of your room? Soh recommends unique pieces from Space Furniture such as the Kartell Bookworm, which features a spiral form for an instant visual impact.

"Avid readers should opt for more book space," says Soh. "Other bookshelves such as the B&B Italia Jack, as well as the Quid and Wall System collections from Poliform are great choices as they are customisable. They give you more space for your books and accessories."
See also: 6 Beautiful Bookstores To Know In The Klang Valley