Men and Speed: Jason Tan and his Audi R8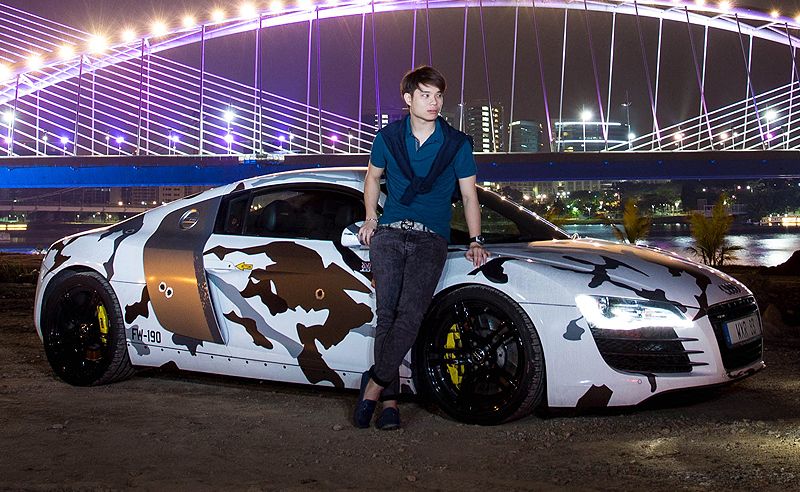 For the second part of our series, we meet a young man who, despite his belief of being late into the world supercars has racked up plenty of miles with his Audi R8.
Having first met a supercar owner who has loved fast cars all his life, the second man on my list believes himself a new kid on the block, not finding his love for cars till his late teens.
"Many of my friends started getting into cars in their teens, but I was always more into sports," says Jason Tan. "But by the time I reached the age that I could drive, I suddenly found an interest in them."
The interest, though sudden, was not entirely surprising. Like the old cliché of 'love at first sight,' Jason's love for cars came from falling in love with a Mercedes-Benz SLK. Completing high school in the United States at the time, Jason struck an agreement with his parents to get the SLK 200 in exchange for good grades in his SATs, and they kept to their side of the deal when he did.
"I not only became familiar with the car, but also my own limits."
But getting his first car that also happened to be his first car-love, at the age of 17, wasn't as easy as Jason thought it would be.
"I didn't drive it when I first got it. At the time, I felt a lot of pressure. I didn't dare drive it because I was worried it would get scratched or something bad would happen to it," he admits.
Not letting his fears get the best of him, Jason took his time to get familiar with his new car by taking it out every night to drive short distances. Not only did he eventually get used to driving the car all the time, but this teething period with the SLK taught Jason about the relationship between car and driver.
"I not only became familiar with the car, but also my own limits. One thing I believe is that a driver really interacts with his car; once you get used to it, you become one and that's when you have the most fun with it."
Jason drove the SLK for almost 6 years before moving on for reasons I can appreciate:
"I felt the SLK was too slow," he laughs. "I thought it was time to move on to something new."
The Audi R8 was released internationally around the same time Jason got his SLK, although wasn't immediately available on our shores. By the time it did arrive however, Jason recalls visiting the dealerships that sold them just to admire the car, hoping, but never realistically considering owning the car with a seven-figure price tag.
"I would look at it but I didn't dare touch it. When I look at a car, I look for the 'wow' factor. It must look like a car you want to drive and be pictured with. The R8 was definitely that car."
Although he undoubtedly made an upgrade by trading in the SLK and driving off the lot with his supercar, the downsides became almost immediately apparent.
"I couldn't drive it all the time, and not because I didn't want to. There were some minor maintenance issues but really at the time, I was reaching the end of my time in college and I couldn't drive it there because some people would intentionally scratch it," he admits shaking his head. "So I didn't think it was practical."
"What's the point of having a supercar parked at home and not using it. I wanted to meet people and share my passion and tatler_tatler_stories,"
The doom and gloom however, was easily eclipsed by the benefits of owning and driving the R8, namely the doors it opened and the people he got to know on the other side of them.
"I had the R8 for about half a year and I was looking for an activity to join. So I searched up car clubs on the internet and the Blue Jackets came up on top of the list. I saw these people who called themselves family, and did so many events and activities," he says.
"I thought it was a dream-come-true because what's the point of having a supercar parked at home and not using it. I wanted to meet people and share my passion and tatler_tatler_stories."
Jason dropped Erwin Azizi, the founder of the Blue Jackets Society an email and was immediately invited to join with no strings attached. In fact, it was only a week after his introduction to the club that he was joining them for his first drive.
"We went to Port Dickson for a short drive, during Raya. I didn't know what to expect, but they were really fast and I tried to catch up. That was the first time where I really managed to drive full speed."
But Jason is quick to point out that his need for speed wasn't so much a need as instinct, and one that never bordered on the dangerous.
"I was a little bit scared, and I'm not sure why I did it, but I really enjoyed it. We weren't trying to be dangerous, because it was quite safe at the time; it was early in the morning, the roads were quite empty and we kept a good distance between us."
There was more to his time with the Blue Jackets Society than camaraderie and fast cars. He also reflects on his time with the club fondly for the charity he did with them, including buying young underprivileged children essential items, on top of taking them on outings in their supercars.
"It felt really good to be able to make a difference to someone's day," he says.
"Better to sell it while I still have good memories of it."
Sticking to type, Jason recently sold his R8 after 3 years of ownership with the goal of moving on up. Although he looks back at his time with his first supercar with plenty of love, he doesn't believe a car needs to be ever-present for the love of it to be ever-lasting.
"It was a really good car, but I think it was time to move on to something new. Better to sell it while I still have good memories of it."
For a new kid on the block, Jason has accumulated a considerable amount of miles, going from a boy who was too afraid to drive his first car, to a man not afraid to let go of something good in search of something better. And for anyone who thinks it may be too late for them to get in touch with their inner speed demon and let it loose, Jason has some words of advice -
"Don't worry about when you get into supercars, just know that when you do it will become a lifetime hobby. It's not just something you think about for a day or two. I've come to the point where I've owned cars, collected models and joined car events, and I'm always just looking forward to the next thing to make my heart beat faster."
(photos: Jason Tan)
Our previous entry to the series: Dato' Deven Nathan and his many supercars