Mongolia promoted as international travel destination for 2015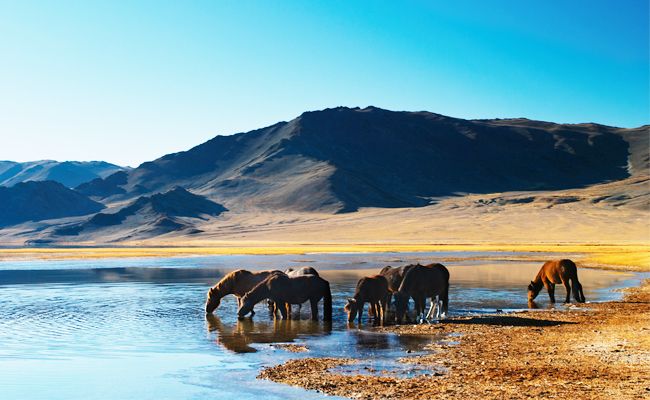 Nicknamed 'country of blue sky', Mongolia is given the spotlight at major travel trade fair ITB Berlin 2015.
Mongolia, a swath of land sandwiched between Russia and China that goes by the nickname "country of blue sky" will be given the spotlight at a major travel trade fair in Berlin this week.
The country famous for having birthed Genghis Khan, for its Silk Road and the Gobi Desert has been chosen as ITB Berlin's official partner country this year, a partnership that will see the promotion of the enigmatic, but emerging destination among key players in the international travel industry.


Though growth in Mongolia's tourism sector has been incremental at best -- it took 10 years to double in growth from 400,000 in 2003 to 800,000 in 2013 -- that figure is expected to spike dramatically to 2 million by next year.
Key to the country's development will be the modernization of Mongolia's road network and transportation sector, the government says.
In an effort to accommodate the rising number of visitors, the Mongolian government has launched a series of initiatives that includes the construction of a new airport in Khushigt, 52 km from the country's capital Ulaanbaatar.
Likewise, by 2020, the government aims to connect all provincial centers to Ulaanbaatar with paved roads in the aim of strengthening the country's infrastructure and making transportation easier.
Though the country is four times the size of Germany, the network of paved roads is equal to about 6,600 km, with 2,200 km scheduled to be built this year. The addition will cross through the Gobi Desert.
This year also marks the 65th anniversary of the Trans-Siberian Express, an international train that connects Moscow, Ulaanbaatar and Beijing and runs four times a week.
To keep the tradition of rail travel alive, the Mongolian government will make an investment of $250 million USD that will buy 15 new passenger carts, designed with the 21st traveler in mind: wifi access and onboard entertainment.
The region is particularly popular among nature lovers and adventure seekers drawn to the region's mystery, nomadic culture, lakes, mineral water springs and glaciers.
Other tourist highlights include horse trekking, dinosaur fossils, ancient temples and ruins, excursions with nomad communities.
ITB Berlin runs 4th March to 8th March 2015. For more information, visit its official website.
(Source: AFP Relaxnews; Photos: ©Pichugin Dmitry /shutterstock.com)
We recommend: