Lessons from My Father: Dato' Simon Foong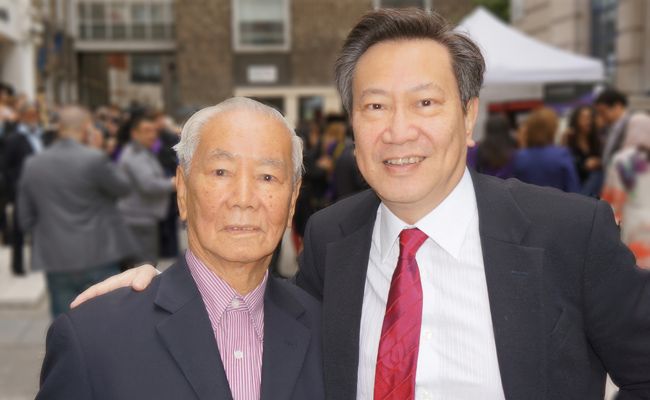 For Dato' Simon Foong, the biggest lesson his father taught him is that out of everything in the world, family is always most important.

Dato' Simon Foong (right) with his father, Foong Hon Cheong


Dato' Simon Foong is well-known in our society circle as a respectable businessman with a sense of humour and who is hardly seen without wife Datin Mina Cheah-Foong by his side.
Outside of a businessman, he is also known as the doting father to two grown boys, Daryl and Dexter, who have inherited his warm aura and humble demeanour despite the family's many successes.
Tell that to him, however, and he would be quick to brush it off. He credits all his achievements and successes to his father, Foong Hon Cheong, without whom he wouldn't be where he is.



Dato' Simon Foong and father Foong Hon Cheong

"My father has a boundless constitution and is always rearing for new horizons to see," he tells. He jokes that his father is very much like Genghis Khan – domineering with a clear vision of what he wants, but fair.
"Between now and when we grew up, he has not really changed," Dato' Simon adds. "He remains the fierce warrior that I have always known, still pugnacious when it comes to protecting the family interest."
We got him to share with us a little more about his father, who taught him that out of everything else in the world, family is always most important.



Dato' Simon Foong with his sons, Daryl (left most) and Dexter Foong (centre)

Lessons on business
"My father taught me that to ensure success, sacrifices must be made, be it time or other things. He was always keeping an eye out for new opportunities to conquer.
I am thankful for what he taught me, and that I am continuing his tradition and always moving and finding new horizons to explore. You can do anything with the right motivation and attitude."
Lessons on being a gentleman
"He imparted to me the desire to work hard to spare my wife from carrying all the burdens of life, be it taking care of the children or at work. He taught me that in life choices have to be made, and in this case, he taught me to work hard for my children to have a good life, and secure the family's future."
Lessons on being a father
"I took his take-no-prisoners approach with my children when they were young when it came to grades at school, so that when they were older they could ride to success on their own.
My two children are both intelligent and ambitious, with a mischievous sense of humour they inherited from me and my wife. I am proud to say that my eldest son has managed to sweep a girl off her feet and make her his wife, and by extension my new daughter! She is a sweet and hardworking girl, and overall there is little more I could ask for."
(Photos: Dato' Simon Foong)


We recommend: