What Fuels The Creative Juices Of Anabelle Co-Martinent, Founder Of La Juiceria Superfoods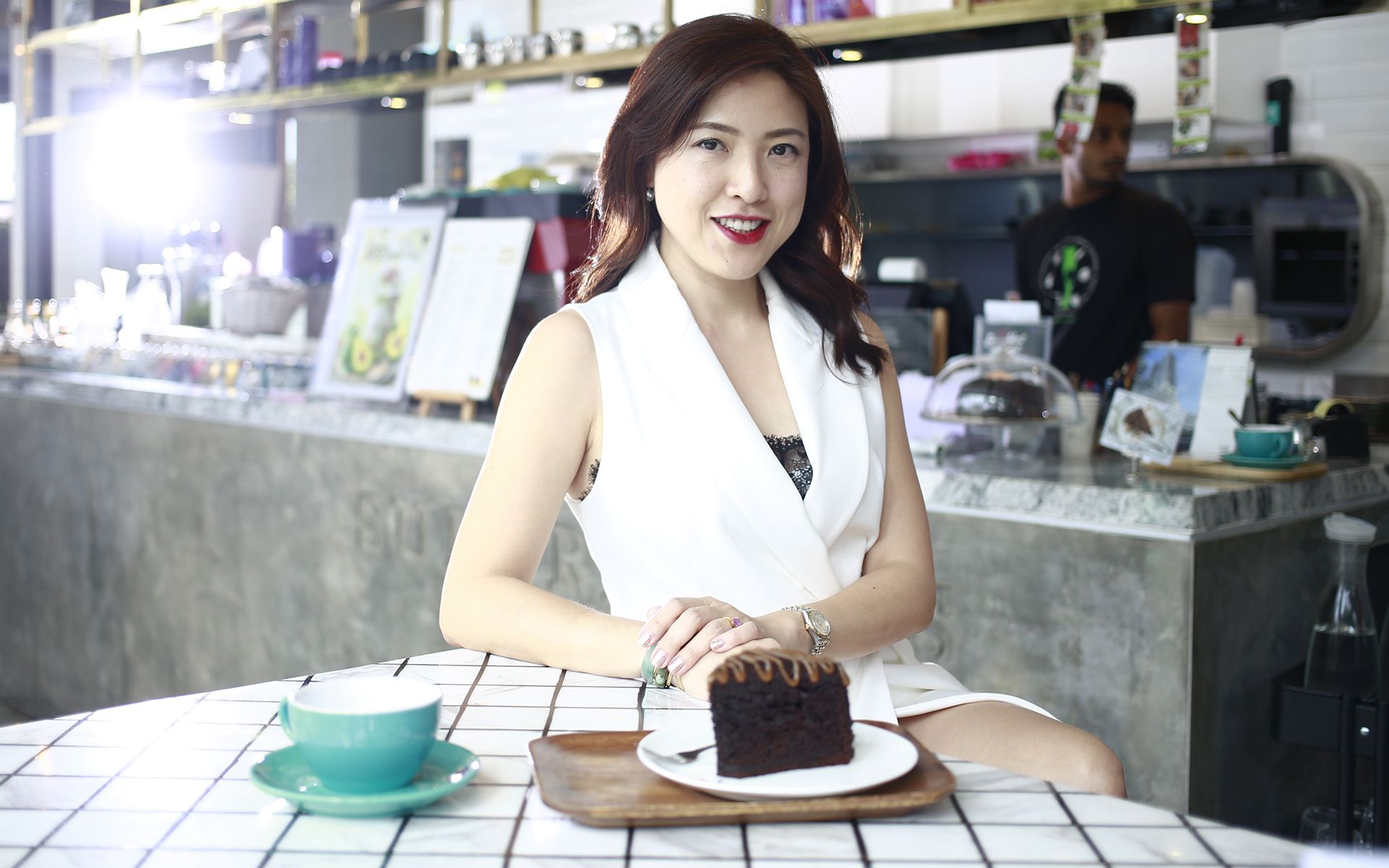 By Jessica Liew
August 07, 2018
The visionary superwoman who reshaped KL's buzzing healthy café scene gives us a taste of her recipe for success and her bittersweet discoveries.
"I always tell people that ideas are cheap. Just Google and you've got all the answers,'" Anabelle Co-Martinent begins, setting down her turquoise cup of dirty chai latte. "It's easy to say, 'let's start a business' but the real, hard part is the need to have a vision of where you want go."
We're sitting in La Juiceria Superfoods, Nadi Bangsar. Anabelle, the ladyboss of this trendy café chain, matches its sunny, lively vibe with her chipper nature while tracing her steps back to 2013 when it was just her and her humble cold-pressed juice company, La Juiceria. The fad fell as swift as it rose, but Anabelle's was one of the few companies that survived – with a success story to boot. "We were geared to really making it, to create awareness among Malaysians, and banking on making health a long-term lifestyle."
See also: 6 Healthy Café Owners In KL & Their Best Dishes That Won Over Fussy Eaters
Spurred by intuition, determination, hard work and a sprinkle of luck, the mum-of-2 took La Juiceria further by becoming the only Halal-certified cold-pressed juice company in Malaysia. Next, the consumer-savvy realist focussed on offering a solution to the nation's soaring obesity, hypertension and diabetes rates, with veggie-packed juices. Today, La Juiceria cafés serve KLCC, Mont Kiara, Bangsar, and Subang Jaya, and she's also founder of Super Saigon, an offshoot brand in its third outlet, and a newly-minted social media marketing agency, Soxial Status.
---
Everyone can create a juice formula – it's not rocket science. It's the way it makes you feel, the confidence – that's what you're selling
A purpose-driven calling
It took Anabelle 2 years to figure out La Juiceria – she had sacrificed a cushy 12-year corporate career to discover herself, only to be on a steep learning curve as an entrepreneur. But she knew she'd found her calling when a customer she was serving thanked her for creating the company. "I was thanking her for coming to my small, newly-opened juice store but it was the other way round! It made me reflect that, OK, I've reached my purpose," she grins at the memory.
How La Juiceria took on the F&B scene
Malaysians are spoiled for choice when it comes to good food. Anabelle took up the challenge, one bottle at a time. Then, she opened Goodness Greens café in TTDI with local favourites done with a fancy and healthy spin. Everyone was clamouring to try her nasi lemak quinoa wraps, Bangkok salad, quinoa chicken rice, and vegetarian Buddha Bowl.
"La Juiceria cafés make healthy food more accessible and affordable in a way that doesn't restrict the hardcore vegans, vegetarians, bodybuilders from eating with regular people who want to eat healthy too," the intrepid foodie observes. "Someone who wants to eat pasta can eat with friends who want salad or soba. That's our formula to influence healthier eating habits."
See also: 5 Spots To Pick Up A Healthy Wrap
"I've created a monster"
The Filipino native is mother to a 4 and 8-year-old. One can only imagine how she keeps up with her roles – more so the pressure to represent her fit and healthy brand. But a real-life, La Juiceria health transformation story is her husband's own.
"He had gained 12-13kg since the day we got married," she recounts. "He was too tired to go the gym and we kept buying bigger clothing. When I started La Juiceria, he became my guinea pig. 3 weeks into his juice cleanse, he lost 8kg, then another 18kg."
"From somebody who was very tired and gaining weight, my husband went from half marathon runner to ultra marathon runner. I 've created a monster!" she laughs.
See also: Runner's High: 5 Society Men On Their Passion For Running
Glamour, deconstructed
Anabelle attributes La Juiceria's success to her 2 business partners and another partner co-running Super Saigon. As the sole woman on the team, her femininity plays to the business's strengths.
"Females obviously have a different touch, different sets skills, but men also have their own strengths. A woman's ability to scrutinise details and being vocal balances the creative and practical aspects in a business," she iterates.
Rather than rose-tint entrepreneurship, Anabelle is upfront about its unglamourous reality.
"9 out of 10 businesses will fail and you won't hear about the failed attempts, only that one success story. There's the unsexy, boring stuff that needs to be completed," she's forthright about it. "It's one thing to want to own a cute café, but it's another ball game, with costings, menus, taxes, and licensing to sort out."
---
Running a business isn't about making money. If you're not solving a problem then what are you there for?
On a note of self-love and identity…
Not everyone has the means to be both a businesswoman and parent, but Anabelle is adament about empowering fellow mums.
"There's never a business plan that's perfect enough. There's never a time that's right. If your plan has an end in mind, and an idea that solves a problem, go for it," is her advice.
Anabelle points out that while children are a big part of you today, there comes a time they'll leave the nest. Work isn't about being selfish, but finding identity and purpose.
See also: Nadia Nasimuddin On How To Be A 21st Century Wife And Mother
Another steadfast source of support is her spouse. Prior to starting La Juiceria, Anabelle was at a crossroads between her corporate profession and pursuing her own dreams, and her husband was her constant sounding board.
---
My husband, in all his patience, counselled me to 'go and do it, go and discover, and the worse that could happen is…what?'
---
Healthy cakes arrive at the table as our conversation winds down. Despite her superwoman lifestyle, Anabelle is every bit a sentimental soul, who unwinds to Bossa Nova, chases sunsets from her condo balcony and enjoys bath time with her kids. "Motherhood, little things to be grateful for, good weather, just being at home… that's my perfect end of day."
Art direction: Syahlia Sari / Malaysia Tatler