It's Cruise Season! Hop Onboard With These 5 Chic Collections Of 2019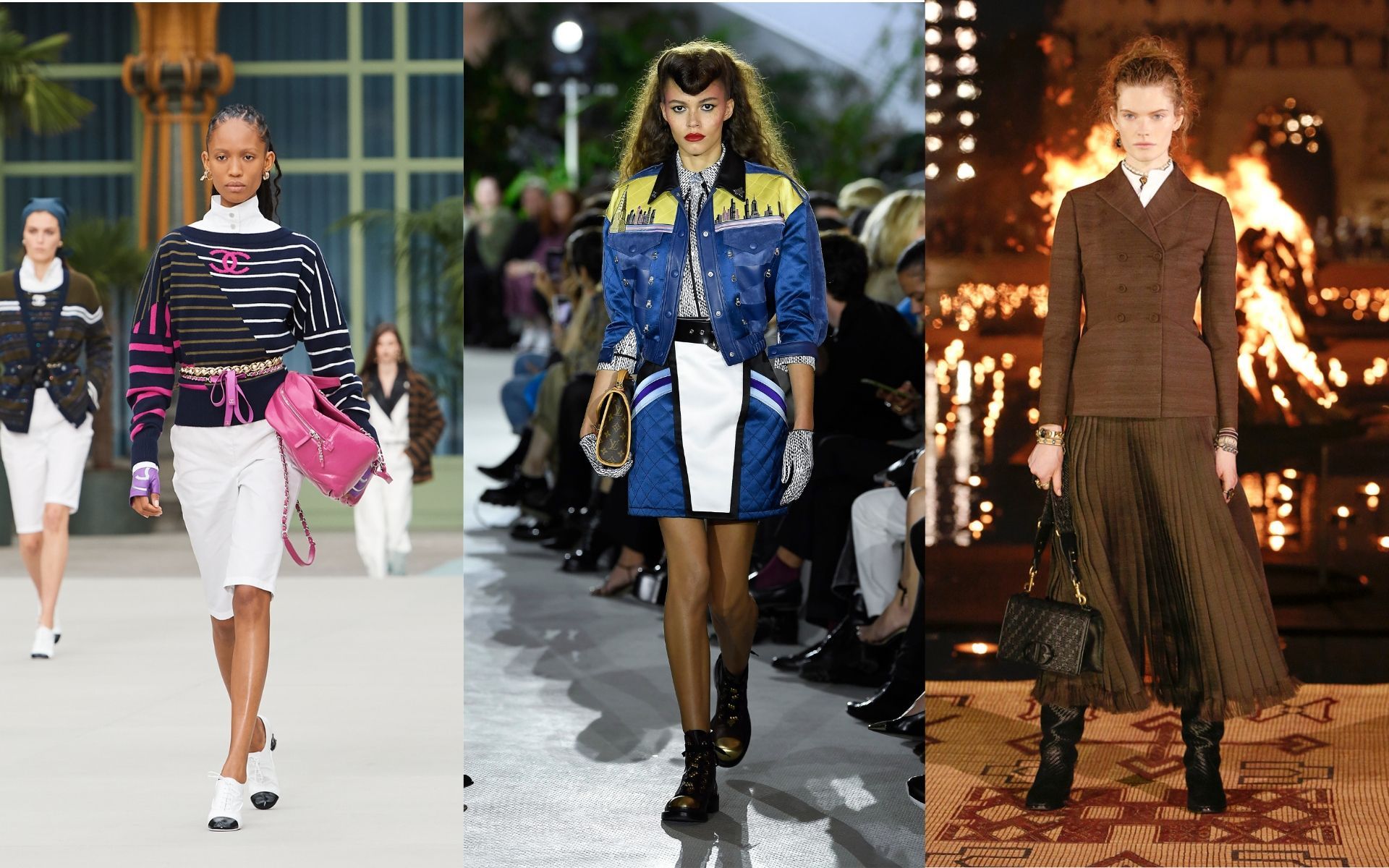 By Aina Izzah
June 06, 2019
Also known as the resort collection, these vacay-approved ready-to-wear creations envisage double duty globe-trekking ensembles to take you from air travel to romantic train journeys.
1/5 Chanel
Virginie Viard pushed the boundaries with classic pieces like the tweed jacket, in her debut Cruise collection. An exploration of geometric patterns and soft pastel hues splased the memorable line, with the daring asymmetrical opening of a navy tweed jacket with flares and the uniform 2-toned strappy pump heels as the highlight of the season.
Elsewhere, the iconic white camellia placed on an exquisite black ribbon decorate 1 design after the other, along necklines and shoulders, as a tribute to the house's establishment and Virginie's ascent as creative director.
2/5 Louis Vuitton
Mirroring the spacious white halls with minimalist furnishings of a spaceship from a sci-fi movie, this is the scenography of Louis Vuitton's cruise collection that took off at The TWA Flight Center. Quilted jackets with printed skylines and laced drapes reminisce of the glamourous Jet Age in the Thirties and Forties, where dreamers clamour for the lifestyle of pilots and air hostess.
Futuristic LED screens on monogram handbags, dubbed Connected, proved a conversational topic among fashion influencers, with fashion blogger, Susie Bubble calling it, "Kitschy-future all important bag".
3/5 Dior
Upon a background of the blazing Marrakesh sunset, creative director Maria Grazia Chiuri held a magnifying glass to traditional wax print textiles in the Dior cruise 2020 show. A collaboration with Jamaican designer Grace Bonner and African-American artist Mickalene Thomas, resulted in tropical influences like palm trees prints and rattan bags emerged on the runway (aside from the massive bonfire).
Parallel to the fantastical circus-themed Dior couture show, there exists a direction paved by the cruise collection in reuniting with the past specifically in 1957 when the Algerian-born Yves Saint Laurent became the house's successor.
Read also: Dior Haute Couture Extravaganza Flew The Circus To Dubai.
4/5 Prada
Embroidery of flowers, plaids and stripes meet knitwear, in an illustration of a warm spring collection from Vogue. There's quint British fashion likeliness, especially in the floral-patterned suits with tortoise shell buttons and heels worn over socks and leg warmers.
Although a large part of the theme revolving cruise season hark of luxury travels, Prada tones down with a demur line that wouldn't look out of place for small town getaways and quiet holiday cottage.
5/5 Gucci
As though an apparation of Roman Catholic icons, Gucci cruise 2019 pulled out designs of exaggerated Gothic capes and Baroque prints. Each look that came out of the foggy runway recalls ancient Madonna paintings bedecked in jewelled pumps, velvet and oceanic earrings.
The cross hanging on the mouth of a lion, on a brooch with heavenly depictions of angels and pinned onto the shoulder of a loosely stitched green dress radiate biblical references.