Two Japanese Michelin Star Chefs Talk Trend Versus Tradition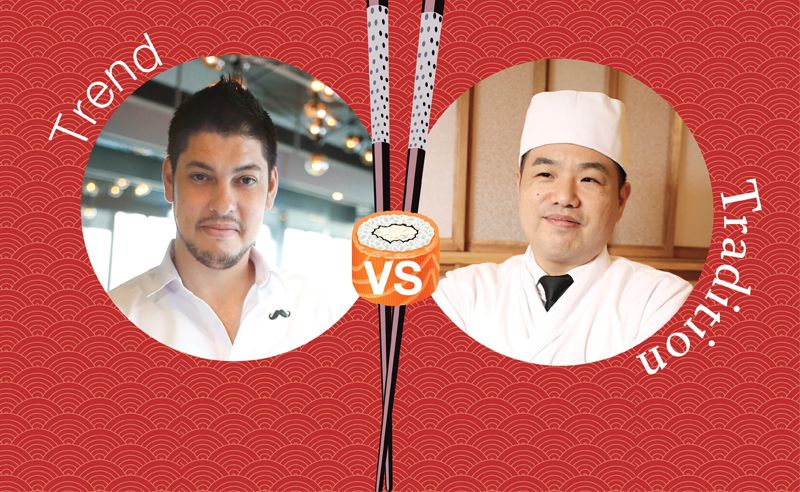 By Samantha Lim
July 27, 2017
Based in Malaysia, Toshihide Terado of Sushi Azabu and Jeff Ramsey of Babe discuss the treading thin line in Japanese cuisine.
Presently at the peak of popularity, food from the Land of the Rising Sun is fêted globally for championing consistency. Even so, disciples don't always stick to their mothers' skirts.
Calling Malaysia their second home, Michelin-starred chefs Toshihide Terado and Jeff Ramsey—one invested in tradition and the other seeking to set new trends in gastronomy—may invoke different doctrines, but exude omotenashi, the humble spirit of Japanese hospitality, in equal measure.
Prim, professional and pleasant to a T, Toshihide Terado hails from Hiroshima, and served at the original Sushi Azabu outpost in New York City for six years (where he garnered a Michelin star), plus had a short stint in Nagoya before moving to Malaysian outlet at Isetan The Japan Store in February this year.
Traditional edo-mae sushi, one of the earliest, most authentic forms of sushi conceived during the Edo period (1603-1868), is Terado- san's forte, and he will proudly stake a claim to serving the highest grade sushi in town.
Rather like a California roll, Jeff Ramsey is half-Japanese, half-American, and a proponent of 'otherness.' Born on Okinawa island, the food scientist with a taste for molecular gastronomy was bestowed with a Michelin star at Tapas Molecular Bar in Tokyo in 2008, and has presided over his present 'laboratory' Babe since November 2015.
Coined 'Japas' or Japanese tapas, the unconventional dishes that Ramsey executes at Babe are exciting conversation starters that abolish preconceived notions of stuffy fine dining, and elate both the brain and belly.
Swipe right to read both chefs' responses to our interview
Sushi Azabu (03-2119 2624) is located on the fourth floor, The Table, of Isetan The Japan Store while Babe (03-2095 8599) can be found on the 11th floor of Work@Clearwater.
For the full feature, checkout our Malaysia Tatler Dining August 2017 issue.